Woooohooooo!!!! My lovelies!!!!
The book of fabulous hints, tips and "favourite posts" that you have emailed me over the last couple of months have finally wiggled their way through the KDP programme over at Amazon and has gone live and FREE for you all for the next few days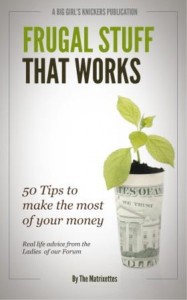 Hop on over and get your copy – a book written by you guys on the stuff you really feel works best when it comes to thrifty living.  Inside are masses of links to hints, tips, recipes and articles that will make finding out all the ins and out of Frugal Life a complete breeze.
And when you have read YOUR book
Hop back onto Amazon and leave me some comments – and on here too!!!  Should we aim for another collaborative book of some kind this year – if so? What do you fancy?
So go …………….. tweet this out to your hearts content, Facebook your friends and email your mates ………………… share this as far as you can so that anyone feeling overwhelmed and swamped by finances being pinched can get a little ray of FREE sunshine into their lives.
BTW in the first couple of hours we have already had 100 downloads – Woop!!! Woop!!!
ETA : 3pm and you guys are No2 in the Amazon Chart BTW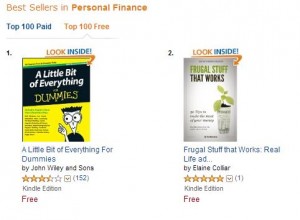 Congratulations my Lovelies!!!!
ETA: 6.30pm to add – YOU DID IT!!!!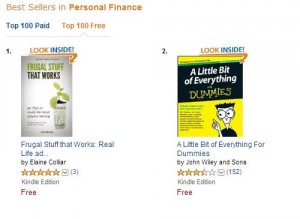 YOU ARE TOP OF THE PERSONAL FINANCE CHART!!!