When I got the email entitled "Norlins Po Boy Jambalaya" I just had to respond ……………
Well how could  you not with a Subject Line like that??
Turns out to be from a group of 12 New Orleans Students who are sharing a house and sharing the cooking.  After a quick Skype call I found out that the "correct" way to say the name of the city
ISN'T
Noo Or-lee-ons
OR EVEN
Noo Or-leens
IT'S
                 Norlins                   
WHO KNEW!!!! LOL
This, they decided, was their  most frugal recipe and wanted to ask me if I would swap it for one of my Thermal Cooking Bag Tutorials as they fancied making their own.
Well for sheer bare-faced cheek …………. and with a Trans-Atlantic High Five for their out of the box thinking I popped one over to them right away.  Bravo my Student Friends, Bravo …………. glad you are reading along and keeping an eye on the pennies! That should be cents – right?
So fair is fair – they have their Tutorial – we get to have a look at their recipe!!!  So guess what we are having tonight? Yup "Norlins Po Boy Jambalaya" made in the thermal cooking bag whilst I had the wee one out at swimming.  Because you all know how hate Tuesday evenings and the rush to get everything done with the boys when there is a class in the way.
Must confess -as frugal recipes go this is up there in the top ten frugalist ones ever featured on this site…. have a look
NORLINS PO BOY JAMBALAYA – FOR FOUR
1 chicken breast – or two chicken supremes
2″ piece of chorizo (1 have pieces frozen)
1 clove garlic – crushed (they use garlic salt …. but I have persuaded them to invest in the real thing)
Half an onion
One green pepper
250 ml passata
Half teaspoon smoked paprika
750 ml boiling water
400g white rice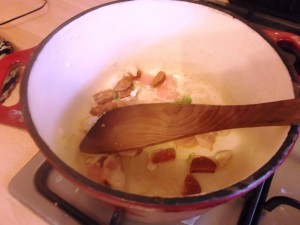 Over a gentle heat start sweating the chopped chorizo until the fragrant red oil starts to flow.  Stir in the finely chopped chicken and cook till it's opaque.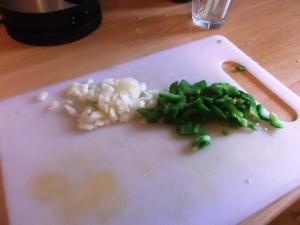 Finely chop your onion and green pepper. Add to the pan with the crushed garlic and soften the veggies.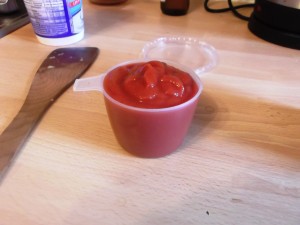 Measure out your passata ……………… useful and cheap at only 22p per carton.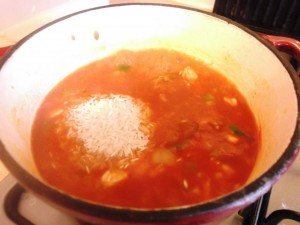 Add the passata to the pan with the boiling water and paprika.  When the mixture is at a rolling boil add the rice and stir well.  Cook briskly for five minutes before tucking into the Thermal Cooking Bag for 40 – 60 minutes.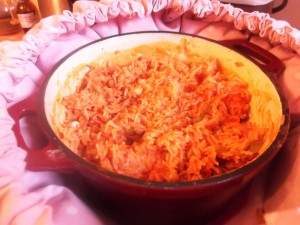 PINK RICE!!!  Subtly tomato flavoured – smokey with the paprika and perfumed by the chorizo.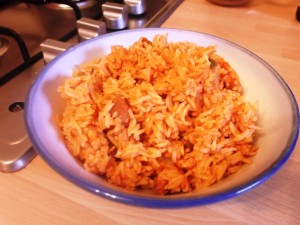 But four fairly large bowls to dip into for dinner.  Now ………….. if I was to pick fault I would say that you should probably chuck a few more veggies in there!  Perhaps a courgette, or some frozen peas or corn or even a chopped up carrot. It is a bit "hunt the veggie"
But as it was pointed out to me "I'm a bloke, I'm a student … the bell pepper is just in there so I can tell my Mom I am eating my veggies!!" ROLF! Fair enough Tom

But I can totally see why this is "end of the month student fare" but to be honest – its tasty enough that its going to find its way onto our menu again for sure ………..I'm thinking as a side for a frugal barbecue of home-made burgers or some RTC sausages it would be perfect.
So thanks for the recipe guys – hope you get to make your own Thermal Cooker soon and it helps keep you fed.
So what about you my lovelies – what dishes do you remember from your "penniless phase" … I remember eating a lot of porridge and a lot of lentils

 Hows about you?