Here is our home for this week – Chateau Colliar donha know!!!  Look at the little red-head – Lord of all he surveys.  At least in his own wee head.  He has already made pals with the two kids from the caravan two over – which means we have to haul him back in kicking and screaming for dinner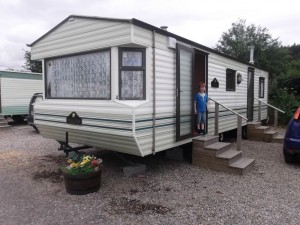 My Mum in my kitchen for the week – if you look closely you can see I plunked for the thermal cooking bag AND the pressure cooker this week.  Best of both worlds in my opinion.  Food that can either be cooked in minutes or cooked unattended for hours …………. not slaving over hot hobs in a hot caravan for me ……………. for yes! The sun is shining and we are making the most of every minute.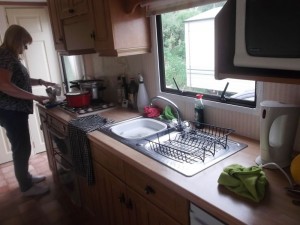 Besides they both sit on the hob out of the way – looking very pretty and calling me to experiment with some of our family favourites.  I have just noticed – how utterly cheffy does that picture look with both white and red balsamic vinegar and olive oil ……………. bet my Mum never went camping with condiments like that in the 70's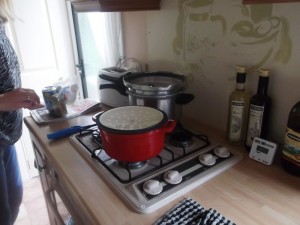 How prepared was I? – chopped mire poix – I know I am showing off but Pat from Ayorkshirecook.co.uk has taught me this one its usually chopped carrot, onion and celery with crushed garlic (mine is onion. celery and green pepper) tucked in a lock and lock box and brought with us – the perfect base for a family bolognese.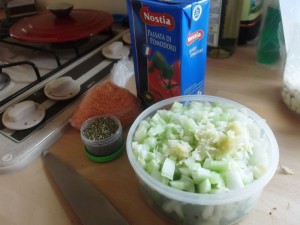 As soon as we have checked into the site and unpacked our bits I whipped out my casserole to pop on a bolognese as our first meal.  Making it at lunchtime meant that we could head out to explore and do our food and veg shop knowing that whatever time we got home we were only ten minutes away from a pan of spaghetti being made and dinner being served.
I know I have said it before, but forward planning is definitely the way to go when you are keeping it frugal.
In fact I made a whole pot of bolognese … with the aim of serving it "Italian Style" .. thats lots of pasta with a coating of sauce.  Keep your eyes peeled later in the week for how we transform the leftovers that are now living in the tiny freezer.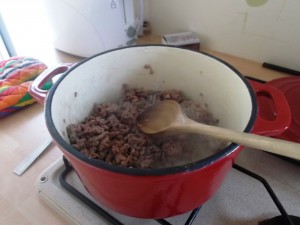 So a 500g box of mince …. I know the extravagance but we are on holiday after all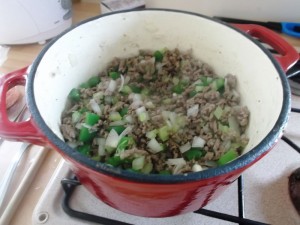 In with the veggies and cook every thing very gently until the mince is browned and the veggies are soft and everything is very hot.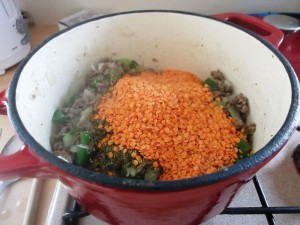 Ops caught in the act – adding a good handful of red lentils to the mix to pad it out and thicken it up without resorting to flour in the sauce.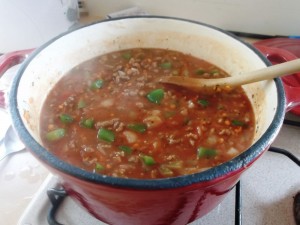 A carton of passata rinsed out with some water and bring everything up to a decent boil with the lid on.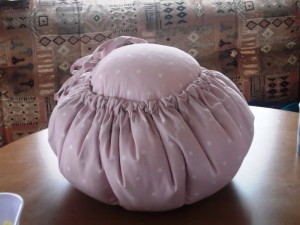 Into the thermal cooking bag and we left it for about four hours until we got back to the caravan, boiled up some pasta, set the table and partook of a plate of garlic bread. (Half a ciabatta loaf – toasted and spread with garlic butter)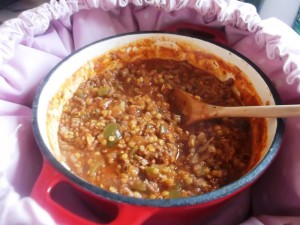 How utterly gorgeous was the smell when we revealed the pot.  Mind you were hungry having been out in Inverness all afternoon.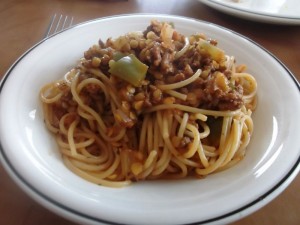 A few ladles of bolognese scoped over the pan of pasta and everything tossed so that every strand gets a coating of the lovely sauce. EVERYONE cleared their bowls so I am guaging this one as a total success.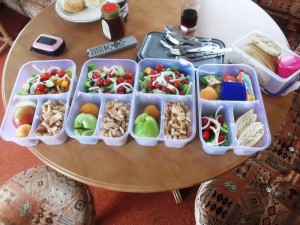 So this morning saw me up and packing lunches after breakfast.  Four lovely boxes of lunchtime yumminess.  Our theory is that you pack one box per person and they can pick and choose what they want to eat and when – its important for the little one.  I find that he is pretty easily distracted by play-parks, other kids and cute puppies …. so very often a lot of his food is eaten is the car when we are en route somewhere.
So what did we have????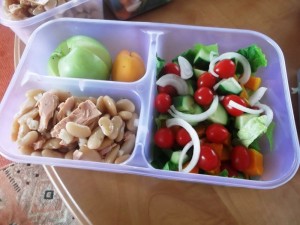 A salad of lettuce, roasted butternut squash, cucumber, onion and some baby tomatoes.  I carry a balsamic vinaigrette with us so that we can dress our salads just as we want to eat them. We love a lunchtime salad – but no-one loves a soggy salad do they?  There is no joy in slimy lettuce leaves.
White bean and tuna salad dressed in lemon – the white beans were soaked overnight and then cooked in the pressure cooker for just 7 minutes whilst I was making our morning coffee.  By the time it comes to make the salad they are cooked cooled and ready to rock and roll. We prefer cooking our beans ourselves – we don't like them too soggy OR too salty … are we fussy or what?
An apple – cored and quartered for ease of eating and a lovely summery apricot as a sweet afternoon treat. These are from LIDL this week and so lovely and honey sweet that we are enjoying each and every one.
Blimey!!! so much for being on holiday …………… I have wittered on a bit haven't I? LOL
Still at least now  you know we are here -settled in and eating well ….. better go chase the kids through the shower now – chat tomorrow my lovelies.  Just wait till I show you what we are up to

Toodles!