I have been up for yonks ………………… I am flitting around the house collecting all the bits and pieces needed for our trip away and wondering what I have forgotten to put on the list. there is bound to be something!!
The biggest quandary I have is which of my favourite cooking utensils to take with me?  Pressure Cooker or Thermal Cooking bag?? We are going self catering in a caravan and packed lunches and long lingering dinners will be the order of the day …………. mostly catered from stores to keep the costs down or from LIDL in Inverness. Yup! in planning the holiday I have already checked out where our Supermarket of Choice is when we get there.

It means we don't have to carry EVERYTHING with us on the trip up – and I can do my usual fruit and veggies shop once we get there ……………… but in the meantime I am measuring out dried beans, little baggies of barley and scoops of pasta ……………. making sure that as  much as possible comes from home from stuff we have already bought and paid for.
In fact – the pile of packing is beginning to look a lot like an advert for Approved Foods

 Still by spending less money with them I can spend more money on the boys so its all good.
I am on to pondering breakfasts at the mo ………………….. so apart from a batch of "30 minute rolls" to take with us – and one batch of pre measured mix to make another in the caravan I am thinking that "Overnight Oats" are probably the thing that we can all eat and takes very little space in the packing.
For these you need 25g of rough oatmeal per person – that is not the rolled porridge oats but the "old fashioned" oats or groats instead.  I used to hate cooking with them in the past – no matter how careful I was with the pot they always seemed to catch on the bottom and go icky.
But in the thermal cooking bag they are an utter dream to cook as they soften up using an indirect heat – making soft, nutty grains that exude enough oat milk that you don't even need to add dairy for serving.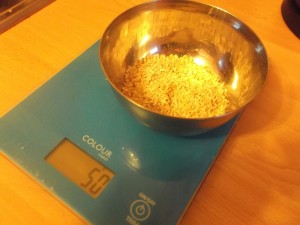 So measure you oat groats.  I know it looks like an impossibly small amount of grain to feed two – but 50g will give you two decent sized bowlfuls.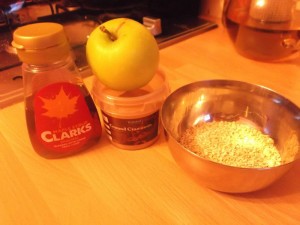 I like to flavour my oats with some fruit – so an apple from the fruitbowl that needs using up before we go is perfect.  Just peel, core and chop it into small dice.  With apple of course cinnamon is perfect – turning these oats into "Apple Pie" flavoured oats as a bonus!! A quarter teaspoon is plenty.
If we are going with the "American" theme – then a teaspoon of maple syrup would be nice too (although I often make this just with  the fruit) – but brown sugar, honey, syrup – whatever rocks your boat if you have a sweet tooth is fine.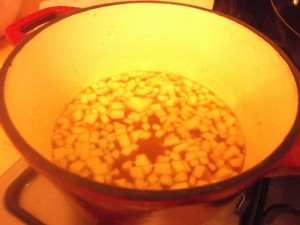 Add 350 ml of water to your lidded pot and bring up to the boil for two minutes. Stir in the apples and oats and being back to a boil then turn off the heat.
Pop the pot into  your thermal cooker overnight – or wrap your pot in a large towel if you haven't made yours yet.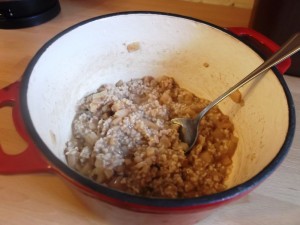 Then in the morning you have tender oat groats that smell and taste of "Apple Pie" – honestly these are so soft and creamy you really don't need milk, yoghurt, cream ……………. but you can if you  like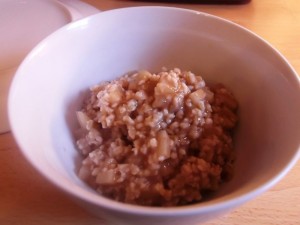 Jury is out whether these are best eaten as a hot or a cold cereal …………… I like both!!! If you want them hot then a quick blast with a microwave or a couple of minutes on the hob to warm through is all you need ….. although don't spoil it at this stage by allowing the oats to catch and scorch …. that is just nasty!!
So back to the packing ……. time to measure out and mix some makings for some lovely salad dressings for us all to share on lunchtime salads this coming weeks.
Oh  – and maybe another look at my list to see what I have forgotten to add on there

So what tips can you share about heading off when the plan is "self catering" – what do you find works really well – and what is not worth bothering about?