Welcome to October ………….. known in our house as "Stoptober".
Stoptober is a month where we focus on using up all our odds and sods in the cupboards and eating out of our stores and our freezer. I set a £100 budget for the whole month for food and other spending and we go hard into being as thrifty as we can for the four weeks or so.
Every penny that we can save is stashed away to create a buffer for the winter months – allowing me to run the central heating a little and treat the boys to some nice Christmas foods as the season of conspicuous consumption rolls around again.
Mind you … looking at how the cost of common or garden staples have risen this past year I am not so certain that £100 will be enough to see us through the whole month – but nothing ventured nothing gained I suppose!! This year it looks set to be a proper frugal living challenge indeed.
So what am I doing adding to our brood? Well let me tell you …………………
A week or so ago I got invited to "Like" a page on Facebook.  Now normally Facebook is my "political space" and I steer well clear of liking too many shops and services as in no time flat you are swamped with people trying to flog you stuff.
Which is all very well – and why they are in business …………….but …………… when you are on naff-all disposable income the last thing you want is to be sold to all day and night!!
But I knew the lass who invited me …………… and she is local(ish) to me ………….. and a potter ………… and is obsessed with cute farm animals.  How could I NOT like a page like that?
But it so happened she was having a give-away …………….. and guess what???  I WON!!! I was the 400th person to like her page and I get  a message that a wee addition to our family was on its way!!!
So I was expecting a palm sized box …………………… when THIS V V V arrived!!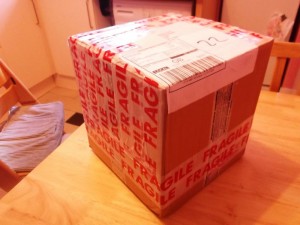 "Awfy big box for a peedie wee coo!" – A very large box for a very small cow!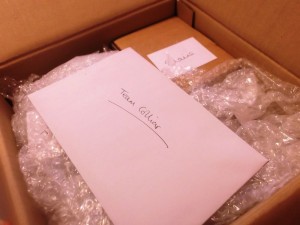 Inside ………….. a bonny card addressed to "Team Colliar" ……………. how thoughtful is that??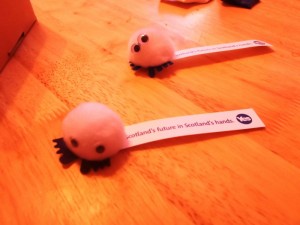 A couple of wee gonks!  Both liberated by the red-head and now perched on his bed-posts.  Apparently they will scare off the spiders…………….. not convinced myself. They are utter monsters this year – absolutely HUGE…. with great big tackety boots and hard hats and hi-viz jackets.  Not a fan I confess … but if the fluffy little things help him sleep who am I to complain??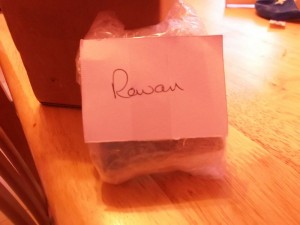 A separate addressed package to the red-head …………… and one for the big boy!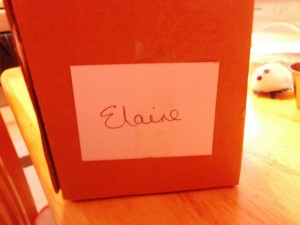 And one for Meeeeeeeeeeeeeee!!!  skips around kitchen!!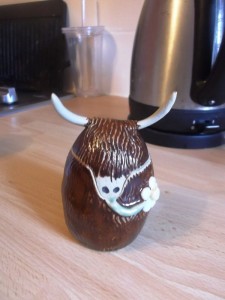 Meet my very own Moka Pottery "Heilan Coo".   Ladies I would like you meet "Tablet the Coo" – named after a rather infamous Scottish confectionary to which we are rather partial

Tablet is a little jam pot and has already been christened by having some homemade plum jam scooped into her and found pride of place on a "safe shelf" in the kitchen  (that being one that the cat hasn't claimed)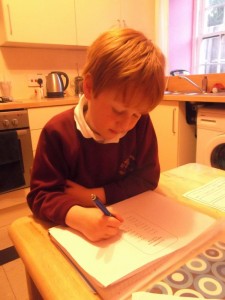 This is the red-head writing the story of how Mum got given a cow by one of the Matrixettes!   Wonder what the teacher will make of that one in the morning ……………….. so what did he get?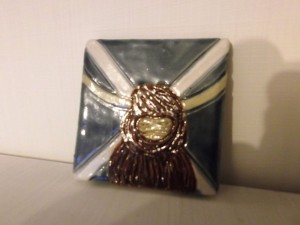 A little hand sized plaque with a Scottish Saltire and a Highland Cow ………… this cow has been christened "Arran".
No? …………. me either??
But at bedtime he told me that the cow he remembers most is the one up by Brodick Castle in Arran ….. thinking back that was two Easters ago!!!  Goodness me the things they remember!!  Mind you I think I popped a picture of that up on the blog at the time so it wasn't his imagination.
So we feel that we have been utterly spoiled rotten on our first day of Stoptober!!  It has really given us a lift to push forward this month and build up a winter buffer.
So ……….. if you are looking for some inspiration for Christmas pressies of the pottery variety …. not just cows but sheepies too LOL  then have a hop over to Kaths site over
One thing you can guarantee ………….. completely unique gifts, no mass produced anonymous tat.
So who is on board for a frugal Stoptober then???  Going in hard and fast and taking no prisoners ……. YEEEHAAA!!!