Just a quick one …………cos I have found a position that is not too bad for typing

Seriously  though – my back is on the mend and I am down to taking the proper painkillers only at night so that I get a good nights sleep. Mind you I had forgotten the weird dreams you have on codeine …………. last night I dreamed that the church bells of St Johns were ringing at midnight.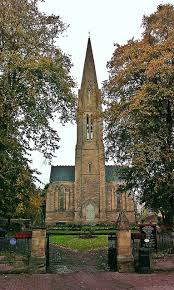 Turns out ………… well it turns out that they really were ringing and I got such a shock I had to fire up the kindle to go online.  I think I  thought the Queen had died or something …………… turns out it was some young men climbing the scaffolding and being numpties.  I mean you are up a Church Tower ringing bells at midnight and you seriously expect to come down and the police are not going to be there?
Idiots!!!  Mind you I bet I was not the only one awake in town that was calling them names

My poorly back , well its kind of scuppered this weeks plan of lots of frugal cooking and plenty of frugal crafting .. instead I am left to report that I simply  haven't spent anything – but considering I have done nothing either  that is not too impressive is it?
So I am practicing my "Attitude of Gratitude" as I stretch over my exercise ball every hour and walk calmly around the flatter streets of town ( walking seems to help me realign everything after I have pulled my back) so plenty of deep thinking time going and surprisingly enough a feeling of calm after the frantic pace of the campaign has returned.
I am still utterly gutted by have resolved to consider this as "not just now" rather than "never going to happen".  Its a small shift but a powerful one.
Its also made me appreciate that the wonderful summer has now slipped away … and it has been a remarkably temperate summer up here.  Long warmish days, very little rain and so much camaraderie and fellowship.
Today however – it howled and hollered and the rain came at me sideways and the sudden drop in temperature sent me shivering for another layer.  Its the sudden shock that made me cold … its not actually that cold yet it just feels like it. I walked the street today and it was like I was the only person on the planet.
So – hot water bottles have been filled tonight ……….. new duvets are planned for next week and we will try our hardest not to cave in and throw the heating on until November itself comes around.
So what other frugal "getting set for winter" preps do you think we should focus on this Stoptober??