Woohoo!!!  Yesterday I hit the heady heights of shopping in Buchanan Street in Glasgow with a girlie friend … we were on a specific hunt for three new T-shirts.
Not just any T-shirts …………. well you know that  Sugah would absolutely die if I showed you my Megadeath and Anthrax Tour T-shirts that I sleep in.
Nope these were purchased to a very specific remit. … and for once I did as I was told!!  (stop sniggering over there at the back .. you know who you are … see me after class!!!)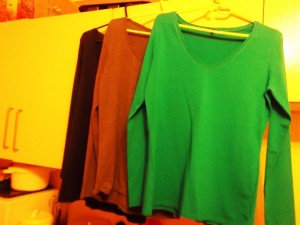 First thing was that I needed to buy one in each of my base colours … and one in my accent colour.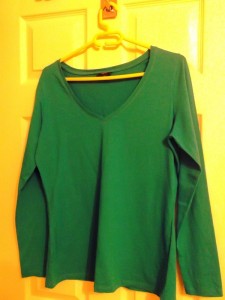 Do you know how easy and quick it is to walk into a shop with your eyes peeled just for a specific item … long sleeved t-shirt in my accent teal green ……. honestly you can be up to the rack and out again before you can snap your fingers.
It also means that you don't get distracted by the "ooh shiny" aspect of being in the shops – the bit that makes you spend far more than you ever intended on stuff you didn't want and until you saw it didn't know you needed.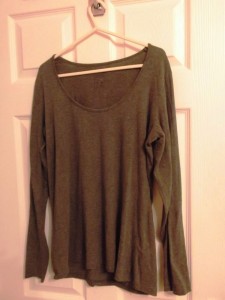 Now you will notice that all three t-shirts have a "lady's neck" ……… Yeah!! – me either!!
Apparently a round neck t- shirt that sits around the collar line is not the way to go for those of us with anything other than an "egg cup full".  Those of us rather more endowed should be looking for a fairly deep V or scoop that leaves space between our chins and boobage.
Of course goes without saying that said T should also cover all bra straps and reveal no more cleavage than you would be happy showing in the office ………… (bahaha!!!  I work for a sodding tabloid!!!!  I will leave that to your imagination about how much they would like to see!!) Regardless – space for a statement necklace is the mid range decolletage that we are aiming for here.
Ladylike rather than tarty is the aim.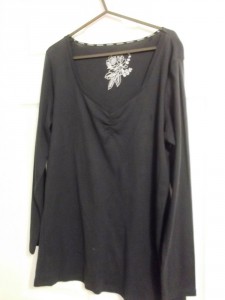 Oh – and if you are less that trim around the middle – go up a size.  Apparently back boobs and muffin tops are not a great look this winter. Her solution is – love the fit, cut out the label and sod the size!!
Going up a size may also make the t-shirt less tight in the bit that links up the "two cherries on the top of the cakes"  …. honestly for a gay Drag Queen she can be so darn prim sometimes!!  No monoboob …… two little independant lovelies please is the request.
Who knew there was such a lot to consider in buying t-shirts??
These can be used with the four base bottoms  and also layered with the three cardigans ….. its beginning to look like a lot of combinations in my wardrobe now … not a lot of clothes but because they are working together it's really beginning to feel like so much more.
So mission T-shirt successfully accomplished … along with a treat of cake, coffee, chats with loads of writers – a very special new friend called "Big Angie" … Oh you will be hearing so much about  her in the near future and ……….. well a few friends from the past turned up and were utterly loveable!!
So off to organise all my wardrobe ……. on Monday I am off to China to be an Arbiter for the World Memory Championship.  It wasn't confirmed until I actually got my visa through today … but it did, so I will be off for a week.  Tomorrow I need to cobble together the rest of the series of "Frugal Wardrobe" and perhaps show you the packing I will be doing for China.
And I can promise you that it all fits in one single wheel on bag!!!
Cannae breathe with excitement!! But boy have I got a lot to do tomorrow!!!
Toodles my lovelies!