Quickie tonight as I am off to Glasgow tomorrow for some Super Secret Squirrel meetings … and coffee and cake …. that I can fill you all in on when the plans are ready to roll.
So between losing a day tomorrow – and supposedly heading to China on Monday (the visa is still not through but I still have hope) I am busier than a busy thing on a busy day.
And of course who forgot until today that tonight was the wee ones Christmas Fayre at school? Yup! Supermum here!! ….. but I did manage to collect him from school, whip him into the barbers and back again to school with his pocket money so that he could buy some Christmas pressies.
Cute haircut too!!
So …………… moving on from the basic pieces … what is the first piece to go with all the base layers … A Perfect Whit Shirt.
I don't care if you are as gamine as Audrey Hepburn or as well endowed as Dolly Parton – hands down a white shirt is the perfect pick me up for a "M'eh" kind of day.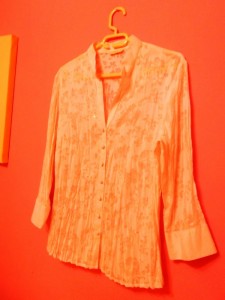 Mine is slightly crinkly and quite casual.  It has a small stand up collar instead of a proper one …. neat enough to tuck into skirts and wear with heels on a working day … casual enough to wear loose over jeans with bare feet for a walk on the beach.
Mind you at this time of year our walks on beaches usually involve wellies, thermals and waterproofs … but you get my drift?
Harsh white, soft white, off white or cream ……. try on some different whites and you will find the one that suits you best.  It will make the whites of our eyes really pop … our cheeks will look naturally flushed and the light reflected will smooth and soften the laughter lines around our eyes.  Honestly this is Black Magic of the Sugah kind – different whites have a different effect on you depending on your complexion … its worth taking the time to find out which one suits you best.
So my one white shirt could be worn with any of the four base bottoms = 4 outfits.
or could be mixed and matched with any of the bottoms and the three cardigans = 12 outfits
So this one perfect white shirt can create 16 different outfits from the items I have already have selected … I am beginning to see how having carefully chosen all the pieces to work together you can really have a wardrobe that works.
Time to have a rummage and find the perfect white shirt that could be lurking unloved in the back of your wardrobe I think.
Now – I need to go pack the bags for the kids to go off to Grandmas after school tomorrow – I won't be home till they are gone so its time for belt and braces time. Teddies, onesies, games and homework!!
Laters lovelies