After the delights of our Portuguese Custard tarts yesterday … today saw the gang and I in a much more frugal mindset.
Its still bitterly cold and blowing a hoolie .. and according to Windy (our  local weather guru) #Scotstorm5 is going to be rocking through this area from Wednesday again.
Time to get more soup on the go.
A quick rummage through the storeroom saw a pack of "Misto Legumi" liberated from the shelves and some suitably "Italian" inspired veggie from the bottom of the fridge.
Don't know about you but the green pepper always seems to be the one left in the crisper come the end of the week – both kids will happily eat the yellow / orange / red ones raw … but the green one is always left "Billy No Mates" come the weekend.
This is the perfect kind of dish for using one up – and it leaves me another box of soup in the fridge for quick lunches all this week …….. two weeks into the New Year and I am feeling so organised !!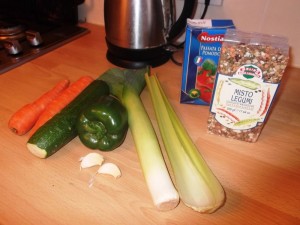 Its soup isn't it —- do you really want a recipe?  Ok then!!
ITALIAN FIVE BEAN SOUP
2 carrots
1 courgette
2 cloves of garlic
1 stalk of celery
1 small leek
1 carton of passata
2 tablespoons Italian herbs
Handful of mixed beans – soaked overnight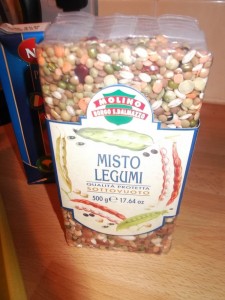 My "Misto Legumi" – thats mixed beans to you and I is a fabulous mix of small red and white beans, borlotti beans, red lentils, mung beans, barley and green split peas.  I am calling this "Italian Broth Mix" as it kind of has the same vibe.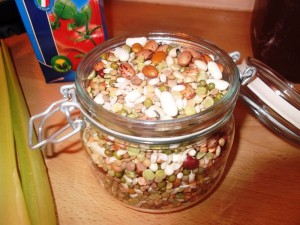 Excess gets tipped into a jar for another day of course!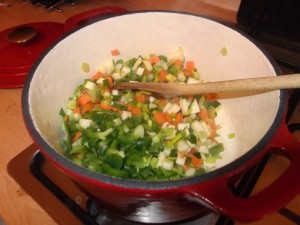 So finely chop all the veggies and cook off in a little water until they are beginning to soften.  Add the two chopped cloves of garlic and cook until you can really get a whiff of the garlic letting down its oils.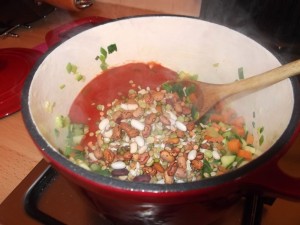 In with the carton of passata and the soaked bean mix.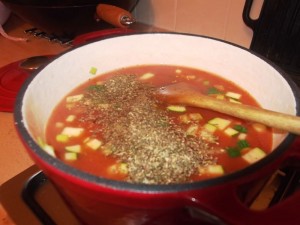 Add one litre of boiling water – a good grinding of pepper and the Italian Mixed herbs.  I leave the salt until the beans in  the soup are cooked as it can make the skins quite tough sometimes.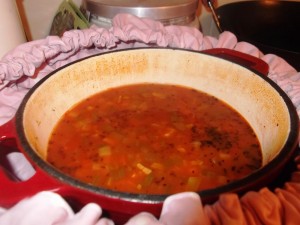 Up to the boil for ten minutes and then I tucked mine into my thermal cooking bag and left the whole thing alone for five hours.
You could of course simmer on the hob until the beans are tender .. or dump the whole lot in a slow cooker and leave it to do its thing until lunch.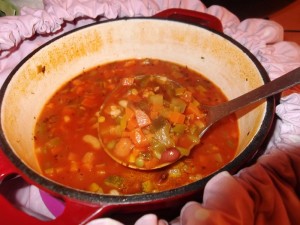 Soft, veggies .. but not so soft that they smoosh into the liquid and tender beans that thicken the soup base wonderfully.
I pop the soup back onto the hob and bring it back to the boil at this point .. we like our food piping hot and it was just a wee bit too cold for us to enjoy. Use this opportunity to adjust the seasoning  – you may find that some salt at this point is a really good idea.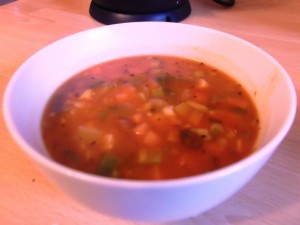 And what is an even better idea is a grating of fresh parmesan on top to go all stringy and gooey in the heat of the bowl.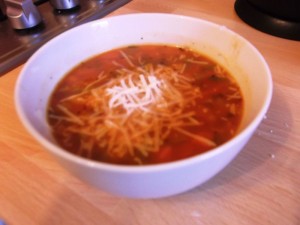 How Italian is that?  And whipped up from some bits n bobs in the bottom of the fridge.  No need to head out to the shops for any fancy ingredients which not only made today a No Spend Day … it also meant it was declared a "Jammies Day" too … which considering the weather was fine by me!
Best news is that there are three portions left for lunch this week ..so ahead of the game already YAY!!!
Best time of year for cooking up these comforting dishes don't you think? So lets pull out our Thermal Cookers, Slow Cookers and casseroles and feed our families some great homemade comfort food.
So looking for suggestions my lovelies … what recipe would you like me to "Thermal Cooker"  or "Slow Cooker" next ???