Who would have thought that such a little wee book would have caused such a stir in our midst.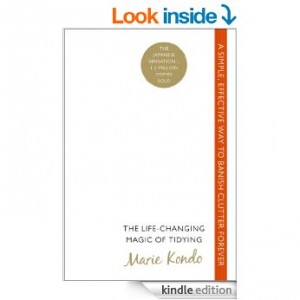 My feeds have been alive all say with people merrily filling bin bags and folding t-shirts .. only one has confessed to thanking her socks (but she is a runner so enough said – already a bit odd

)
I know that what it has done has got some of us up and taking action – so even though I secretly think the author is as mad as a box of frogs …. she has got us moving and for that I applaud her.
So what have I been up to?  Well NOT spending money … my whole day has been spend working on sorting and stacking the kids clothes and the usual hokey cokey of the weekly wash … you know, you put one load in, one load out, one load in and you shake it all about!!!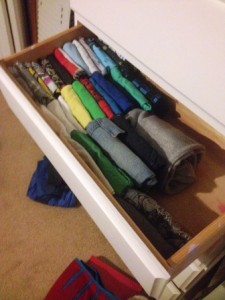 Just a note to Grandad ….. the Red Head probably doesn't need any more T-shirts in this size …. just saying LOL  I have a wonderful Dad who loves to pick up cute things for his wee red-head … and he has really found some crackers but I am thinking a size or two up may now be the way to go!!
Amazing how much space you can free up by folding the kids stuff this way.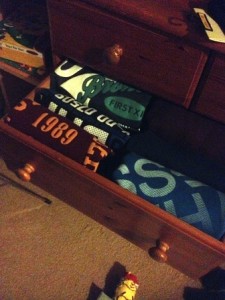 The big lad was amazed when I found and folded all of his favourite sweatshirts and tossed the too-short and too-tight ones into the Charity Bags.  Now he can see how many cool ones he has to choose from it was so much easier for him to let go of the old favourites.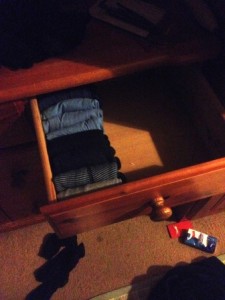 He even kondoed his own boxers ….. I tell you this stuff is catching.
Don't mean to brag but he is through in his room right now decluttering his desk!!  Already he has found his watch and £20 in £2 coins … so he had a better day than I did for sure.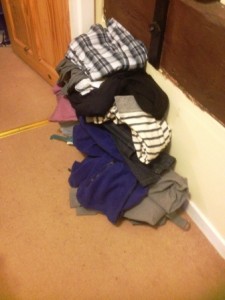 These are the too small ones before I packed them ready for Tuesdays Charity Shop run…. and this time he was happy enough to let them go which makes me think that she may actually be on to something!!
So many lovely clothes that he has simply outgrown .. but I know they are always short of decent stuff in teens sizes so these should shift really fast for her.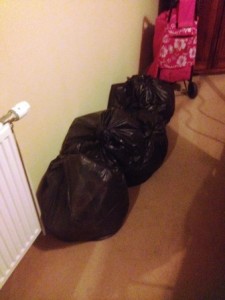 My spillover collection of bin bags for the skip …. this is the real kibble – nothing of any value and nothing worth recycling.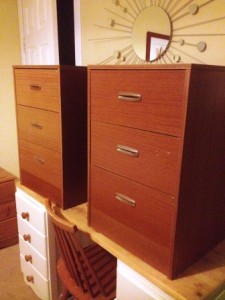 These winged their way out of my door thanks to facebay … although I am happy to donate clothes to the local Charity Shop that supports local causes anything that is too heavy I am hoping to shift on facebay.  If others collect then I don't have to carry which is fab … and I got a fiver for these drawers.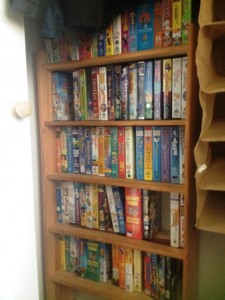 And for these videos that also left the building …………………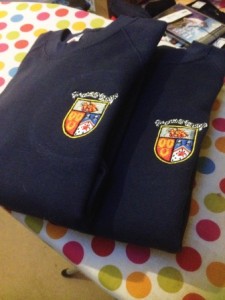 ……….. and these unworn school sweatshirts too.  Not a fortune but enough to create a nice balance in what I bin, donate and sell.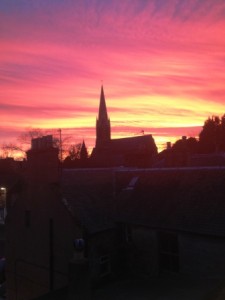 And just because I can …. this was my view out of my bedroom window just before dinner tonight … how amazing was the colours in the sky tonight …. gorgeous!! I had to just take a quick snap .. so glad the picture looked remotely like the reality did.
So … can I confess I am not at the stage of thanking my socks for all their hard work … although in removing my bra tonight I did thank it for all its support Boom! Boom!!
So ……. what have you been tossing and folding today my busy lot??