The little red head is off to a party tomorrow …. so this evening saw him having his traditional Sunday – sheep dip and curry comb a day early.
So guess what I found? ………………………………………..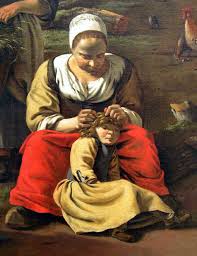 First sign of spring around these parts is not a cuckoo …. something a lot smaller and a lot itchier.  Okay – so there were only two .. but you know where there are two there is bound to be more … so I betcha half his class is scratching.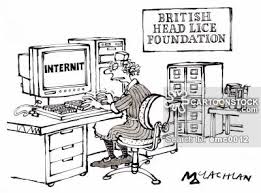 So I ping a message off to all the Mum's I know in the playgroup …. not by all means all of them … and not any of the English ones … you see the YES badge and my obvious political leanings means they choose not to engage

 Still the South African, Turkish, Polish, Estonian and even Glaswegian (

) one still chat along quite happily.
The message was along the lines of "stand by your combs ladies .. the beasties are back!!!"
Cos face it, if you have kids and pets you will at some point be dealing with worms and fleas … sometimes it will even be your pets that have them!!!  Its just part and parcel of being a Mum dealing with all things creepy and crawly …….. stops to scratch head …….. shudders!!!
But that is what it is …. not a "shameful secret" … not something to be hidden …..(please don't hide it – its so much more difficult to treat if no-one lets on).
It doesn't mean I keep a slovenly house (well ……. sometimes) … it doesn't mean my kids aren't clean (barring the mud from the garden he tracks in) ….. it just means that it's spring and somewhere, somehow my kid has bumped heads with someone who has head lice.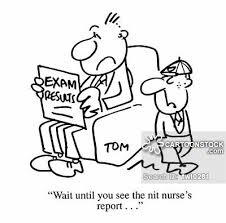 Could be school …. could be the playpark …. could be the church …… could be anywhere!!
Do I care? Not really

All I care about is that I treat him so that he remains comfortable and nit free in the future.
But Oh My .. some of the responses were pretty enlightening
"Yes I know …. treated my two a fortnight ago" …………………… I suggested nicely that the next time she tips us off that the "beasties are back" so that we can all take preventative action and put an end to them sooner.
"OMG!!! I am going off to the Chemist to by their strongest potion and do the whole family.  There goes my Sunday I will have to steam clean the entire house" ….. a quick online chat put it into perspective .. these are not African Super Spiders … just some common or garden Scottish headlice.
"Do I have to shave my sons head if I find any?" … from a Polish Mum.  I mean ???  Oh how sad that she would think that this would have to happen. She was so happy to discover that no she didn't and I suggested a few treatments to try if she found any.
Most came back with a …." Cheers hon – will check them tonight" … completely non-plussed. Mind you  those are usually from the Mums with several other older kids and head lice are just part of the whole process really.
Cos face it once you have dealt with them once you realise that there are actually much scarier things to deal with in the world right now aren't there?
Still … interesting to see that some people still regard this as something to be hidden away and kept secret ….. I guess the stigma of the Old Fashioned Nit Nurse is still alive and kicking in the collective Mummy psyche.
How strange that such a common place and minor part of childhood should be so shameful … from a group of women that quite merrily discussed "50 Shades" in the playground prior to afternoon pick up last week. Seems to me that if we can discuss BDSM we should be able to discuss the other?
Still ….. combs at the ready my lovelies … lets take no prisoners this year!!!

What strategy do you use to keep the beasties at bay from your brood?  Come on – out, loud and proud and together we can banish these bugs back to wherever they came from!!