Did an hour or so on the "Fling it February" Challenge today …. aided and abetted by my glamourous assistant "Puss" ……………. well you can never have enough pictures of cats on the internet can you??
I have decided to start at the very top of my house and work my way down to the front door – which meant pulling out the ladder and tossing stuff down from the attic.
I was in a grumpy mood anyway cos I am still all stuffy and snotty with the cold – so decided to go with what I thought would be a "hard" stash to bust … my knitting wool.
Also I knew that the Church Craft Group was meeting at 2 pm so I had a deadline to work to and nothing this Ex-Stage Manager likes better than a deadline.
In the end I decided to only keep one basket of colours that made my heart sing … and my box of sock wool.  Hey I am an OS Mummy who discovered the secret soothing pleasure of knitting socks.  I have the right circular needles and my little stash of sock wool to keep my fingers happy and out of the biscuit tin.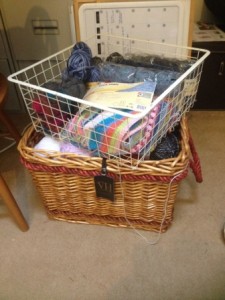 The theory was that I could let the rest of the yarn go and spread happiness with others who would be inspired by the colours and textures of the gifted wool that they would fill the charity knitting boxes to the brim.
Although I did waver at one point and think … I should sell these balls (but that was just chicken Elaine clucking a little) … seriously, all this yarn is heading off to make toys and clothes for kids who really need it.  So instead of sitting in my attic it would go off and do some good in the world – gotta be worth more than the hassle I would have raising a tenner by selling random balls on Facebay – right?
This is all about creating space for new adventures to arrive …….. "Let it Go!!! Elaine, Let it Go!!!!"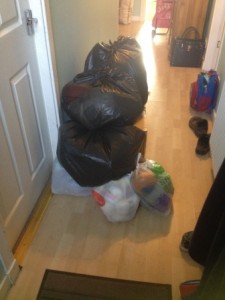 Ahem!!! did I mention that although I saved one basket of colourfull yarn and one drawer of sock wool … I "Let Go" of:
1 box
3 Black Bin Liners
4 carrier bags
Full of various fibres ……… hangs head in shame at size of unloved stash!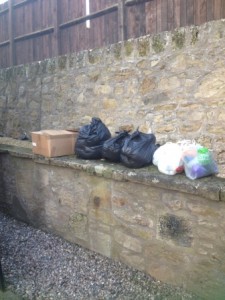 Look! – that was a whole car boot full!!  Mind you the ladies at the Craft Group were OOhing and Aahing all over my bags when I popped them around and I  know the wool will be put to great use… some of it went into use immediately.
It still hurt a little to let it go though ……. The crafters amongst you will recognise the little pang of regret you have when some of your stash goes off to enliven someone elses life.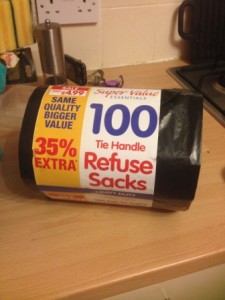 My Mammy came to look after the Red Head tonight – Parents Evening at the Big School doncha know?
So she came bearing gifts … can  you tell she reads this blog? …. "Fling it February" Supplies LOL  135 odd bin bags …..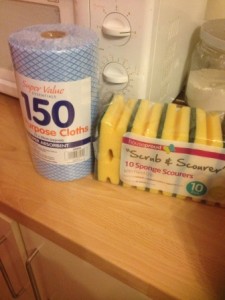 and plenty cleaning clothes and scrubby sponges to get into all the corners and clean after I have decluttered.
I know – some Mums would come bearing flowers … but you guys know I would prefer a bag of flour to a bouquet!!  Practical is where its at this month ….. so off to bed now so that I can tackle something easier tomorrow … and then when I am feeling super strong I will go and sort the fabric stash (although I am certain that this will break my heart).
So when it comes to "letting go" .. what is it you find most difficult to clear?