My crazy friends who run marathons have told me about this thing that happens part way through … where your body just tries to quit on you and your brain tells you to "Stop or you are going to die"
OK – that may be a little overdramatic … and Mum I don't want you phoning in a panic that I am about to pop my clogs but about an hour ago I totally reached that point.
All week I have been stuffing bags and sorting categories …… beedling along quite happy about letting go of everything.  Filling bags and dumping them in a room downstairs where I could shut a door on  them and ignore them for a while.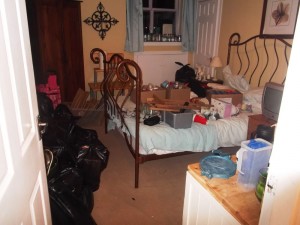 Well …. when the black bags are beginning to meet you at the door then it is time to start to move them into the car and out of the house for good.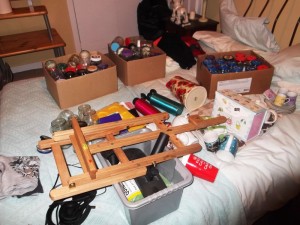 So a mate who had the afternoon off suggested that if I supplied the coffee and cake – she would supply the strong arms and legs and carry all this stuff to my car so that it could be finally got rid of.
Seems like a fair trade to me … don't you think?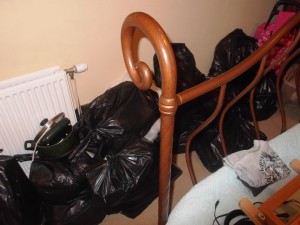 Getting all these bins to the local Charity Shop .. the one that supports local causes of course.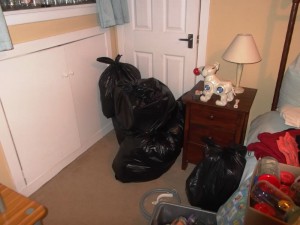 And a wee swing around the skip to get rid of the few bags that have stuff only fit for landfill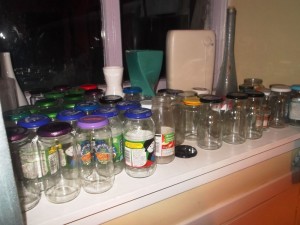 Not to mention a mega run to the glass recycling bank … I had inherited a mates stash of jars to add to my own when she moved …… but seriously!!! How many pots of jam do I think I am going to be making this year??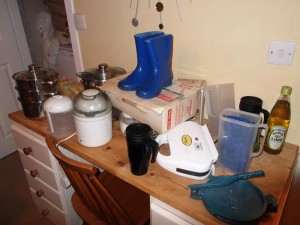 Which should just leave me this one desktop of things that I need to find a home for (mostly kitchen stuff and I haven't really got into all the cupboards in there yet)
So coffee was drunk .. and cake ingested (Cherry loaf … Mmmmm)…… for energy doncha know??
And we loaded up the car and I hit the Charity Shop and by the time I  got back the next load for the skip was on the kerbside ready to go … and by the time I got back from there the glass was all organised ….
I didn't have time to think …. it was an afternoon of taking action.
And we "high-fived" and drank a pot of tea and she headed home to cook dinner for her kids.
…………….. and I hit the wall!!
I felt like a plug had been pulled …. completely drained of all energy and it built into a headache bordering on a migraine. I felt shaky and sick and unsettled and trembly ….
Now I am a fairly strong, relatively fit lady of a certain vintage.  I knew I hadn't overdone the carrying and the feeling wasn't of overworked muscles or strained body.  The core of me was aching. I felt like I couldn't put one foot in front of another.  I was done.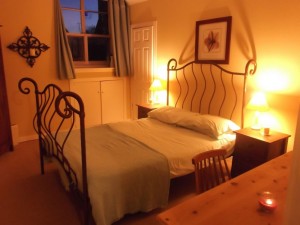 So I went and stood at the door to the bedroom that just a few hours earlier had been jammed full of clutter …….
…………….. and the feeling just kind of drained away from me …………….
You  know I don't even remember what was in all of the bags … but I do like looking at the nice clean and tidy room .. and the other areas in my home that are beginning to feel so much better.
I think though I won't save up the bags again …. I think getting rid of everything in two hours was a energetic shock to the system .. so from now on in the bags must head straight out to the car when filled and dropped off every day or two.
But first … a VERY large Gin …. cos I really think that I have earned it today – don't you?