So one of the questions asked a couple of days back was how good the thermal cooking bag is at cooking "joints" of meat rather than little bittie pieces such as mince, meatballs and stew meats.
So – as promised – I defrosted one of our precious stashed pieces of silverside (reduced to £1.99 per piece) in order to show you.
But ……… this piece is cooked to give us not only a cooked roast dinner on Sunday – but leftover meat and onion gravy to make stovies on Monday and plenty of stock to make soup for lunches this week too.  So if you are realing this thinking "OMG!! Gallons of gravy!!" you could be right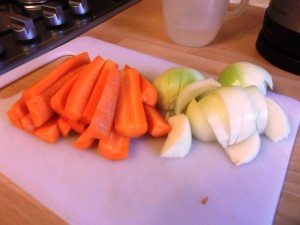 The best part of a Sunday Pot Roast as far as the kids are concerned is plenty of onion gravy to dip roast potatoes in and swish plenty of yorkshire pudding through … so I use two medium onions as a base for a thick tasty gravy.
Pot Roast also needs a side of sweet carrots (boiled beef and carrots anyone?) and I like to cook these in the meat juices so that they are tender and sweet and full of flavour .. it also saves using another pan and I am lazy like that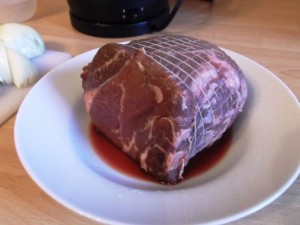 The "Star" of our show – its 500g of RTC Silverside …… but even tougher cuts like Brisket cook to melting tenderness in the Thermal Cooking Bag so you needn't splash out and can cook with the cheapest of cuts.  After all your beef only needs a ten minute boil and then no more fuel … so long and slow cooking is not going to cost you a fortune in order to soften even the cheapest joint.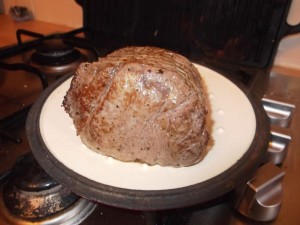 Drizzle some oil in your pan and when it is really hot sear your piece of beef all over ….them remove the beef whilst you deal with the veggies.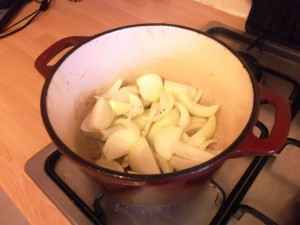 In with the two onions – cut into chunks or segments.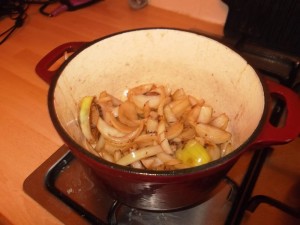 Cook them well until soft and even beginning  to caramelise around the edges – this will give your gravy a wonderful deep savoury taste and lovely colour as the sugars are cooked out.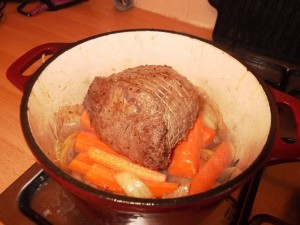 Toss your carrots on top and place you beef back in the cooking pot.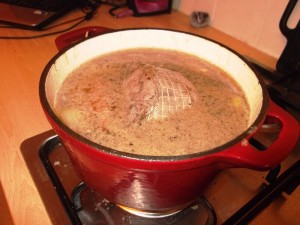 Top up with boiling water from the kettle …. it looks like there is lots of fat in there but after you cook you can allow the juices to cool and lift off all the fat in one piece (I will use it to make the Stovies for Monday nights dinner).  Leave it in right now for the flavour.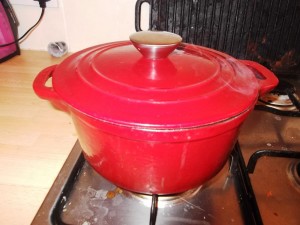 Lid on and bring the pot up to a rapid boil for ten minutes to heat the beef through.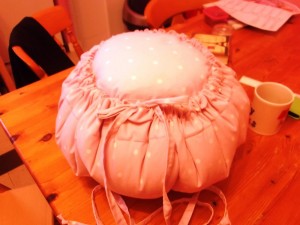 Then into the Thermal Cooking bag for a minimum of 4 hours … I think mine sat happily for six before I made dinner this evening.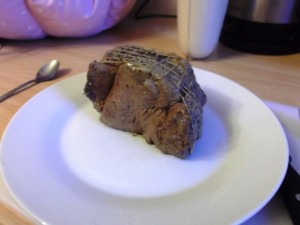 Remove the beef and set to one side to cool slightly before carving into slices.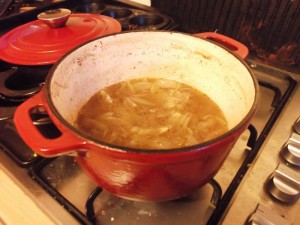 I ladle off half the stock into a jug to sit in the fridge so that i can make soup later.  I lift the carrots out of the remaining stock but leave the onions.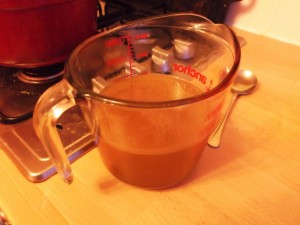 You can see the layer of fat beginning to settle – let that go cold and you can lift it off in one piece leaving fat free stock underneath.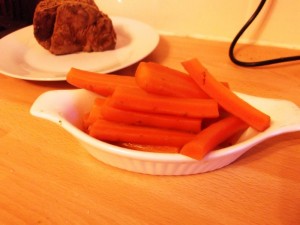 The carrots are tender but not mushy … they keep their shape beautifully and you would pay a lot of money in a fancy restaurant to have carrots poached in veal stock – same thing but MUCH cheaper.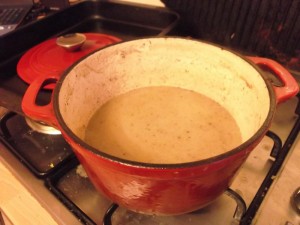 I skim most of the remaining fat off the gravy and then blitz the onions with a stick blender.  We like our gravy to have a lovely coating consistency and blended onions gets you most of the way there without faffing around with a flour roux … it also tastes so much nicer.
A spoon of Bisto however converts it to the required shade of "gravy" LOL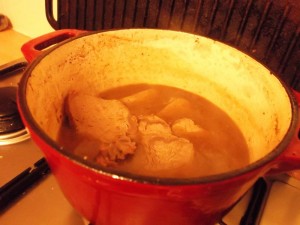 Once the onion gravy is made I simply lay generous slices of beef back in the pan and remove from the heat.  the heat of the gravy is enough to warm through the beef without making it leathery again.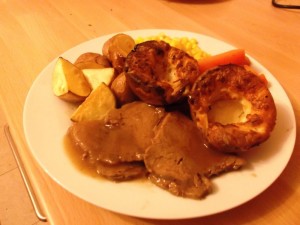 So – seeing as I am feeding a teen with hollow legs – his dinner tonight consisted of roast potatoes, carrots, corn, yorshires (not the two shown here … I think he ate six in the end) and some beef in gravy that was so soft you could cut it with a fork.
Meat actually benefits from being cooked at temperatures less that boiling – long, slow and gentle allows the fat to render out, the collagen to soften without the protein becoming tough and chewy. Ritzy restaurants now cook meat in sealed plastic bags in a waterbath (sous vide) to create tender morsels for your plate .. this method does the same kind of job …. long, slow and gentle ……without the eye watering price tag of course LOL
So ……. what are  you all having for Sunday Dinner en famille?  Just being nosy you know