I know loads of us are still merrily decluttering with Marikondo ….. all day I have seen facebook posts of "before and afters" as clothing gets pared down and bin bags head off to charity shops.
But what about the "other stuff" ….. too good to skip but too heavy to schlep to the charity shops?
Well, have you joined your local Facebay group? They are all over.  Local groups on Facebook that sell within your community.  Its a bit of a faff – but so much less than selling on Ebay with all that packaging up, excessive fees and heading off to the Post Office … oh and don't forget the disputes and hacked accounts.
You pop up a photo, a suggested price (can be cheaper as  you have no packing and postage) and a time for collection …. and today I have had a steady stream of people arrive at my door … cash in hand … ready to rehome my once loved treasures.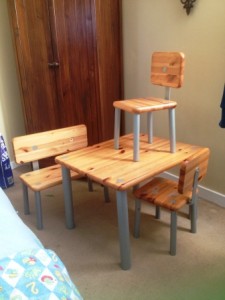 Like the toddler table and chair set that has seen me through both boys … heading off to a Primary School not far from here for the P1's to enjoy.  What a great thought that all of those kids will get the benefit.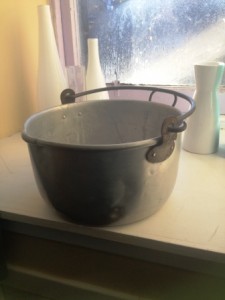 A Maslin pan … sold for three pounds ….. went in twenty minutes.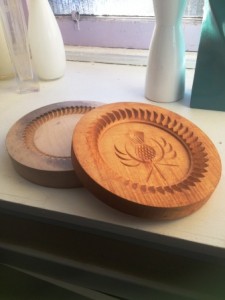 Ditto two shortbread moulds that I was gifted from old Burns night talks …….. I have kept my favourite and these two are heading off to a lady who works at a local NT place.  I bet the next time I am in there I am eating shortbread made with these moulds.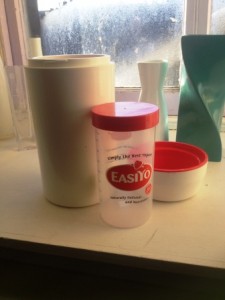 An easi-yo ……. off my hands in ten minutes for four quid!!!  Oh and a quick lesson in how to make yoghurt not using the sachets but by using some live yoghurt as a starter.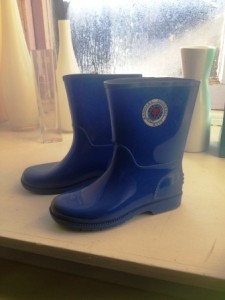 Blue wellies – well you always need wellies up here and the kids feet grow so fast that you hardly ever wear kids ones out.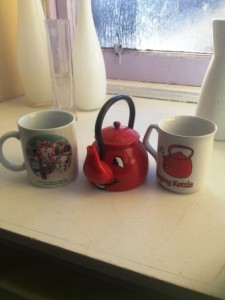 A "Singing Kettle" and matching mug .. with a Bagpuss one thrown in as well – they are a local singing group and most kids go through a total obsessional stage.
So a few photos and a gentle stream of being collecting has netted me £24 today for very little effort.
Not a bad result for a Saturday recovering from being out till 1am last night drinking whisky and eating haggis (I was speaking at a Burns Dinner last night and had a total blast).  Not exactly "hungover" but feeling a little more tired than normal

So … if there is a pile of stuff you need to shift .. why not make a few quid clearing it using facebay?  I have a rule that if it doesn't sell in two days it moves out into the car to go to the charity shop …. what I don't want is another pile of clutter stealing my energy because "I'm planning on selling that!!"  If it does not go quick its still leaving the house and can find its forever home elsewhere.
The money is being saved up to buy paint so that I can decorate later in the year – but another few days like this and I will be at target – YAY!!!
So … how is your decluttering going this weekend?  Anyone up for a bit of online wheeling and dealing?