Since I began the whole decluttering process I have been playing around with simplifying my daily planning – I used to have a huge, hefty day planner that got schlepped with me everywhere but  now that I work from home its not really appropriate.
I know other people get on really well with online tools and Apps on their phones .. but what I craved was the "one page with EVERYTHING on it functionality" without having to invest nearly £60 in new annual refills for my planner.
I want a "use it and recycle it" version … a page that I can use for a day and then toss in  the paper recycling at the end and start afresh again in the morning. Random pads and bits of paper didn't do it – the various lists and plans just got jumbled up as I moved from one job to another (remember I have lots of little jobs rather than one big career at the moment)
What seems to be working brilliantly for me at the moment is this: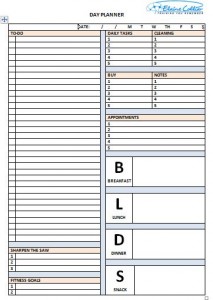 Download your Printable HERE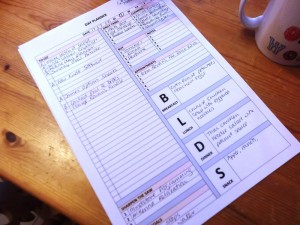 It captures everything that I like to track on a daily basis – and because  its a printable it doesn't get lost on my desk as a random piece of paper would.
Plenty of room for my "Get To Do" list on the left.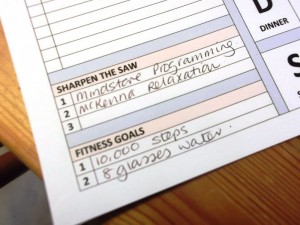 Space to remind me that I need to "Sharpen the Saw" during my day – I need to take time out for Quality Recovery Time and relaxation otherwise my creativity and inspiration take a nose dive.
A couple of fitness goals – nothing too taxing but enough to make me get up and move if I want the joy of ticking off the item on my list …… which face it is the ONLY reason to have a list isn't it? For the satisfaction of knocking something off it during the course of the day.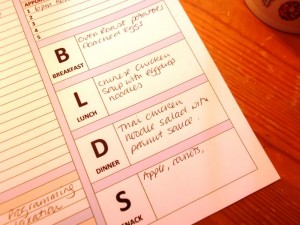 Space to plan our meals .. just so that I can tell at a glance what we are having and know if I need to start off some bread / soak some beans / defrost something without a mad panic come dinnertime.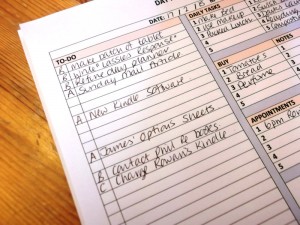 I like to categorise my "Get To Do" List – with A being the most important and C being the least .. that way even though they start off the day as a random jumble I can make sure that the most important thing gets ticked off first.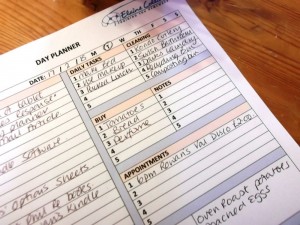 The other side has space for my "Daily Tasks" – for some of the habits I am trying to keep up over the longer term.
A space for the daily cleaning chores – a few every day to make sure that I keep on top of the basics so that although we are still in a stage of "half-decluttered" things are kept clean and laundry is turned around.
A place to remind me if there anything that needs to be picked up when I am out and about – more often that not something for one of the SIlver Saltires … and a place for random notes.
Underneath is a place to record any appointments I may have – usually there is only one or two things that are really time sensitive for me in any one day …. today is the Red Heads Valentine Disco at 6pm, tomorrow is a dental appointment at 10.15 am ……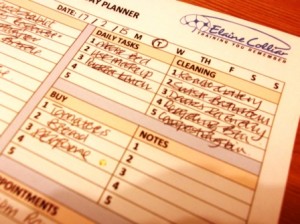 It gives me great satisfaction to tick everything off during the day and to have a last minute spurt after dinner to clear up any stragglers.
Speaking of which – better get a wiggle on if I am going to get the wee one from his disco!!
So instead of "giving up" something for Lent … I challenge you to find a tool that works for you in helping you manage your day.  Take up "being organised" for this period …… lets see how we get on!
What are your best daily planning tips – is there anything else you would love to have on a sheet to help your own day go smoother?