So all the chatter today has been about de-cluttering and getting a hop on Spring Cleaning by getting rid of the "stuff" lying around our homes.
I know we have done 30 day declutter challenges in the past – and so I was asked to run something similar throughout February to help us get a little traction and find our motivation again.
So what to do?  Our "Fling out Five" was great fun … but this time I wanted to feel that we could stretch ourselves a little further … take some baby steps to begin and then then build up some momentum.
So the "February Fling Challenge" was born … here are the rules …..
On the first day of the month you throw out ONE item, on the 2nd you throw out two ….. right through to the 28th where you will be throwing out 28 items.  The greatest thing is that if you stay the course then by day 28 you will have liberated yourself of 406 items of clutter .. imagine the difference that could make to one room, to your whole house, to your office, to your craft room perhaps??
So to keep you on track – there is a printable to post on your fridge – just give yourself a smiley face for every piece of clutter you manage to get over to door during February.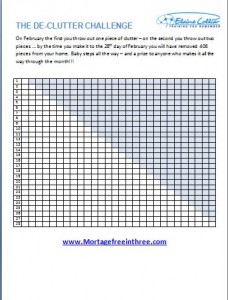 Now to keep me on track – cos I have so much clutter busting you would not believe I have set up a thread in the forum under CHALLENGES for us all to chip in.
So the challenge is to hit your daily target and then pop onto the forum to brag and motivate the rest of us.  To see the thread – another wee blue linkie

I have a whole house to declutter this year and renovate to make it look more like a home and less like student lodgings .. all on a budget of course .. but the first step is to turf out everything that is not needed and maybe even make a little money too through selling my unwanted treasures.
So – who is game???