My dearest wish is that someone (anyone!! … are you listening Mother?) would just come into my house and whisk away everything that we do not need and leave us with a plain and simple way of living.
But I have kids, and pets and lodgers and I craft  and I work from home and it seems that the level of contents of this house grows every time I turn my back.
"Getting organised" feels a bit like re-arranging the deck chairs on the Titanic .. simply moving a pile of something into a neater pile somewhere else.  But something has been gnawing at me .. something shouting that there must be another way.  Other people I know have stylish, organised homes that they can leave to go to work or travel without the niggling suspicion that someone will be killed by a landslide of clutter.
A fellow "Mindstorer" and regular reader on here sent me a link to this book on Amazon yesterday … and she suggested that I find a way to afford it before I attempt to declutter any more.  Now she is a lady that I listen to … so I spent the very last of my Amazon Vouchers on a kindle copy.
There is even a thread about this very book on the OS Forum on MSE .. hop over HERE.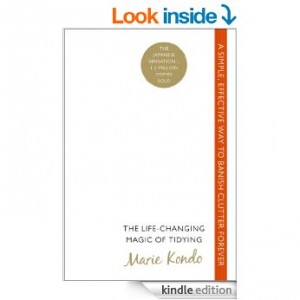 Oh my Giddy Aunt!!!  My whole life I have been going about this all wrong.
The author suggests not a baby-step approach to clutter but a "once in a lifetime" process of removing all the kibble you don't love and putting what does make your heart sing into its proper home.
This is "Black Belt De-cluttering" … and I literally had nightmares last night  where I was chased down the street by flapping bin bags.  I was utterly convinced that I was not ready to do "The Final Clean-out"
But this afternoon, this caught my eye .. this sagging tower of clothes in the corner of my room.  Now the plan is that when I have decluttered that there will be a built in wardrobe constructed here so these ugly drawers are temporary (and have been for 18 months now

)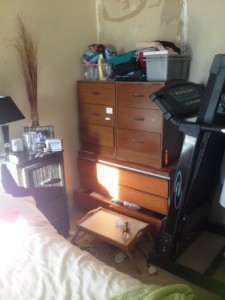 So .. she suggests that you start with your clothing … and I figured that I had started clearing out my clothing before I went to China .. so that might be an easy peasy place to start.
I figured there would be very little to remove .. just some gentle organising.  Listen – when I am wrong I am wrong!!!
So I had to start by tossing all my clothes into one pile ….. was feeling quite smug as there wasn't a 5 ft pile there anymore.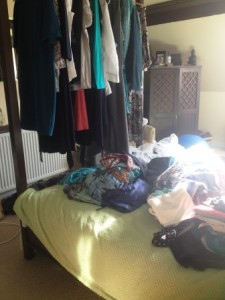 But an hour later .. this is what I was left with …………………..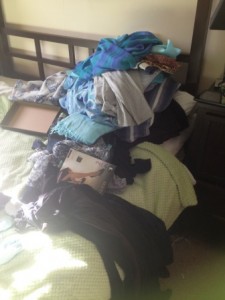 ……………. and this is what was destined for the charity shop!  EEEEEEP!!!!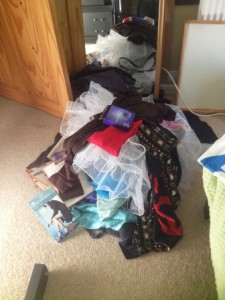 She recommends that most things are stored in your drawers .. and gives you a very specific way of folding clothing that minimises creases … and maximises storage.
Those neat ranks are thermals, cardigans, vests and tops .. then in the bottom drawer, scarves, jeans, skirts and PJ's.  Blimey you get so  much into your drawers when you pack them like this!!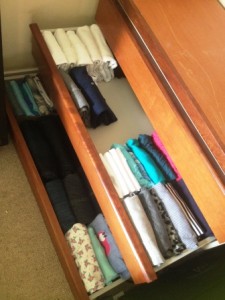 My "hanging stuff" is reduced to a one foot section …… dresses, floaty skirts, smart shirts and trousers.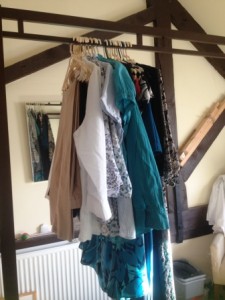 TADA!!! Can you spot the difference … no clothes piled up cos they didn't fit in the drawers.  Erm – no ugly little chest of drawers sitting on top either!!!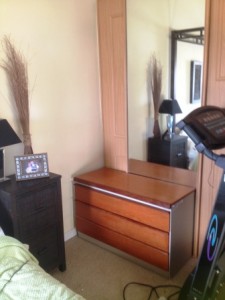 In fact within an hour these were downstairs, cleaned and on Facebay .. they will be perfect for someone else they just don't make my heart sing!!!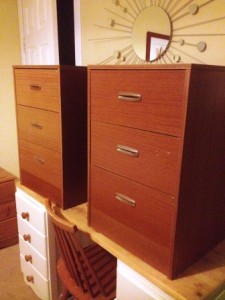 I know it sounds odd to be so excited about a book .. especially a book about "tidying up" .. but her philosophy rang so many bells with me that I really can't wait to get back into my attic over the weekend and start "The Final Clear up" from the very top of my house all the way down.
I feel that someone has let me into the secrets of keeping a gorgeous home that only proper grown-ups know.
I know I have a long way to go … fingers crossed that I can keep on track and finally have a home I am proud of.
Is it sad that I am excited about letting my house breathe and the prospect of uncluttered surfaces and shiny areas?  What do you think?