Been a while since I made my Thermal Cooking Bag.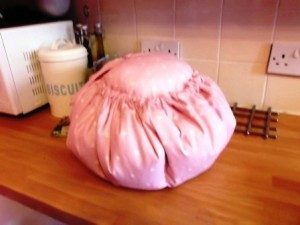 A few people in the meantime had asked me – "But how do you clean it if you spill something in it?"
I thought – I will bung it through the washing machine when I spill something in it!!  Thing is … I haven't … spilled something

But I decided that the outside was looking a little grubby on the outside so it could do with being freshened up.
After all this cooking bag cost me nothing to make … and has saved me hours of cooking and loads of money on fuel since I made it … so "it owes me nothing" as we say up here. If it fell apart … or fell to pieces in the washing machine at least I would know and be able to share with you all……
………….. and tomorrow would have been spent making another one because i really can't imagine my kitchen without one of these "no fuel slow cookers"
So … into the machine on my Eco-cotton cycle she was popped (that is 60 degrees and 1100 rpm spin cycle)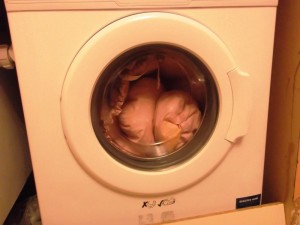 And out she came …. looking pretty darn brand spanking new!!!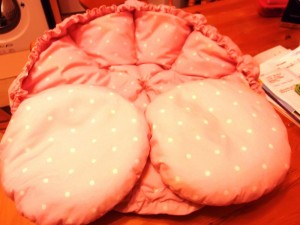 Its leaning over the top of the radiator drying out now .. but after its spin its merely damp and not really wet at all.  The polystyrene beads are unscathed and all still in place.  In fact … if I hadn't fessed up on here you probably would never realise that its spent the last forty minutes in the machine with me gazing at it whipping round with alternate feelings of doom and elation.
Its not "flattened out" in fact is still puffy and fluffy and not compressed by the long spin at all!!
But long story short is ….. it "washes up lovely!"
So … now we know!!  I know its a daft thing to report in on … but a few people have asked so I felt like I needed to experiment and let them know. Its been one of those things that I have been happiest to discover on our adventures in this blog.  So many great meals and so many passed on to other families who are finding things just a little too squeaky for comfort.
So tonight … something different … a Thermal Bag Q & A … what would you like to know about making/ using / cooking in a thermal bag … lets share our knowledge and help everyone who has made one get the very best from their £3.00 investment.
Over to you my lovelies …….