Have I managed to fix the site – erm! Nope!!  But I have managed to get the bit where I can post sorted out so lets just live with that for a little while until I get my head around the rest.
Do you remember the 30 minute rolls we made a wee while ago?  My favourite recipe for a quick batch of "something bready" to go with dinner.
Well this weekend a Parisian Biologist shared with me his recipe for "One Hour French Country Style Bread".  Face it – that is quite a mouthful … so its been changed to "Le Pain Montmartre" – the "Bread of Montmartre" as that is where his student digs were when he learned to make this particular loaf…. and Yes! you can make this in one hour from pulling out your bag of flour to cutting your first slice.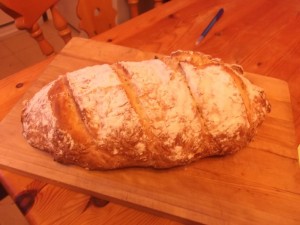 Unlike the soft dinner rolls this is a robust loaf with a crispy crust that is just crying out to be lathered in good butter, apricot jam or chocolate spread (Me, the big one and the wee one in that order

) Well we had to check that it tasted as good as it looked!!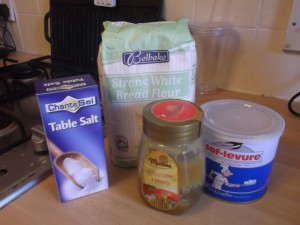 LE PAIN MONTMARTRE
350ml warm water
1 tablespoon Honey
1.5 tablespoons yeast
1.5 teaspoons salt
600g strong bread flour
Add the honey to the warm water and stir to dissolve.  Stir in the yeast and set aside for ten minutes.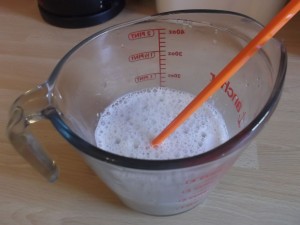 By which time it should be pretty frothy on top.
Tip the yeasty mixture onto the flour and salt in a large bowl.  Using your hands pull the dough together into a fairly loose and ragged dough.
Preheat your oven to 220 c.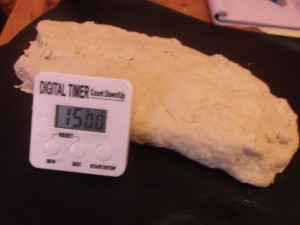 Shape into a loaf shape and set  on a baking tray to prove for 15 – 20 minutes (mine took 20 minutes but its pretty cool in  my kitchen still)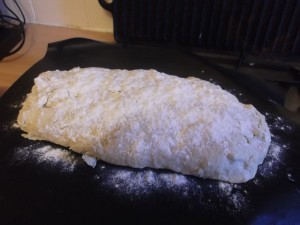 Sprinkle the top of the loaf with a little flour……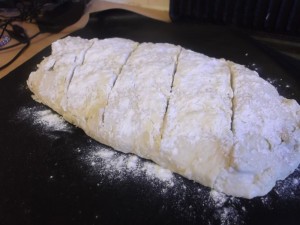 …. and with a sharp knife make a few slashes in the top.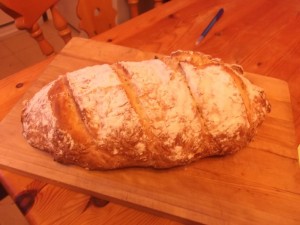 Bake at 220 c for 20 – 25 minutes until the loaf is risen with a crispy crust and the whole thing sounds hollow when you knock on its bottom.
No breadmaker, no fancy tools … but excellent bread made in such a short time.  It looks like one of those loaves you would get in a fancy deli.
Its not "light and silky" like the inside of a french baguette – but more like a Couronne style rustic bread. Delicious with a simple spread and ideal for toasting for breakfast.
Such a great idea from just four ingredients and one hours work .. think we will be making this one again .. what do you think?