Mummy on the Move  – Mortgage Free on Tour – She gets about a bit???  One of these 

Today I finally feel that I am getting a handle on my new role.  Had a bit of a brainstorm on Monday and decided that all the "casework" should be done within a four day week – leaving Friday's free to work with the MP when he is in the constituency.
So the last four days have been busy tackling all the issues that the constituents need help with and returning all the calls that need returning … and today was a much calmer time of dealing with the MP's postal bags, invitations and correspondence … and a trip out to meet a group of local campaigners in a local beauty spot who need a bit of MP input.
All in all a  much calmer week – at least for our MP Stephen who wasn't subjected to eternally ringing phones and back to back email ping-pong whilst trying to have a sane conversation with us.
There was even time for a decent cup of coffee … and muffins may have featured there a little too!!
One of the things we did look at is where we will be working over the next few weeks … well next week I will be working here …….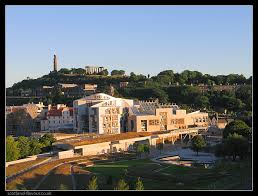 …… that is our Scottish Parliament building  – Holyrood.  Nestled in a hollow  at the bottom of the Royal Mile which is the road that runs all the way up to Edinburgh Castle.
Off to spend the day with some of the other constituency workers and hopefully to play with some whizzy new software that will make life a lot easier in the office as we continue to work remotely.  Our MP has decided to employ in the constituency instead of at Westminster so we are very dependant on technology to make sure we keep in touch and work as a team.
Well- you know me … love to learn something new .. and what a great venue to do so. A lovely light and bright modern building where we can focus on the most up to date, state of the art, hi-technology.
Then the following week … gonna be working here ….. bit of a difference – Eh?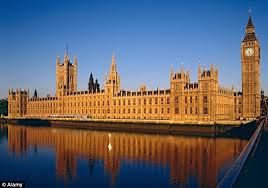 The Palace of Westminster – who would have thought it?
Single Mum from a wee market town in Scotland off to play with the Big Boys!! 

So what do I already know about "This place" ……. well … apparently it needs a massive refurb and it's going to cost billions (bit beyond the scope of "DIY SOS" this one I think)
I thought working through this place would be a bit like fitting in at Hogwarts .. turns out its a bit more like Gormenghast. There are rules, arcane rules, idiotic rules and rules that make no sense but you do them anyway ….. its going to be a fascinating place to observe and to people watch that is for sure.
Hopefully I will be able to get online whilst I am down there … wouldn't it just be the coolest if I could actually blog about poverty from the very heart of Government .. the thought of that just makes me smile its so incongruous.
As one of my mates tweeted today "I guess  you are not living your little life any more Ellie xx"
I guess not ….. she says sitting in her jammies, at her kitchen table with a pot of tea steaming beside her…… I am really LOL … its just they let me out to play in some very nice places sometimes 

Have a great weekend my lovelies – keep it frugal – keep the focus ….. FOUR DAYS TO PAYDAY!!!!