Extreme DIY – that is what has overtaken my life this week!!  Can I introduce you to my new offices .. literally 3 minutes from my house .. brilliant and bargain commute!!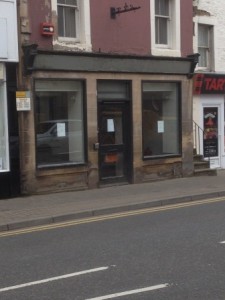 Its in a conservation area so its all going to look a bit gloomy until we have planning permission for our spanking new signs …. so remember this chappie ……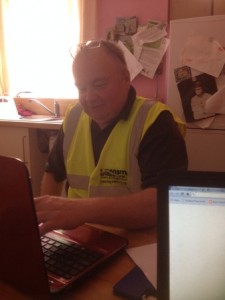 This is my lovely George sitting at my kitchen table designing all the signage and window vinyls that will be in the new office.  Need to get all the drawings done so that we can apply for planning consents.
I have seen the designs – and of course I think they are rather swish but I will leave it till the "reveal" to show you what a superstar he really is.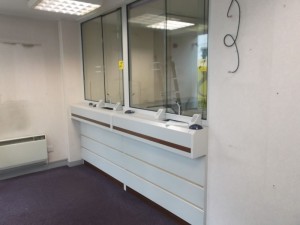 So the previous life of my new office .. was as a bank .. well a building society really.  And these security screens have been the bane of my life this week.  You see the agreement was that these were to be taken out on Monday morning by a local shopfitter who was going to reuse them.
Monday – no show!! Tuesday … he wanders in late … minus his crew and after five minutes decides he "cannae be bothered" taking them … leaving me these massive and heavy built in units to deal with … on my bleeding own.
Never mind …… takes deep breath …. locks door … walks through back and swears A LOT!!!!
Plan B it is …. meaning all of these bank teller stations and bullet proof glass panels need to get removed somehow before we can begin the refurbishment.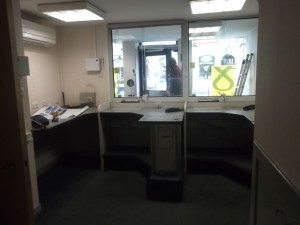 So filthy and dirty ..  I know that  this place has been empty a while but there is so much paper dust everywhere its unreal.  Money – lets face it – it a pretty filthy thing  to deal with.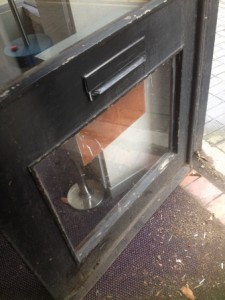 And the outside paint is a scabby yucky flaky conker …. and I can do nothing but clean it until we have planning permission!!!  Bugs me every time I wander past.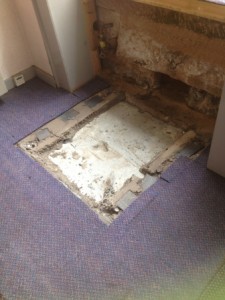 And of course there is the hole in the floor where the cashpoint used to sit …. at this point I was beginning to think I had bitten off more than I can chew.  It's always the same in big projects isn't it?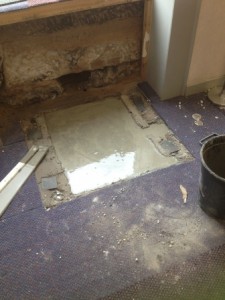 One kind volunteer and a bag of self levelling compound later and one problem is on its way to being solved.  It will need another layer once we strip the floor but for  now the job is a good one and no-one need stumble down the hole.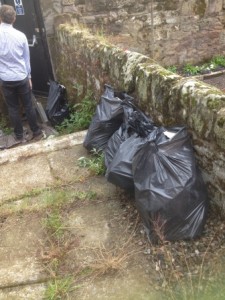 Bags and bags of rubbish to be bagged up and carted off the the skip by another lovely local called Dougie and his magic Jeep.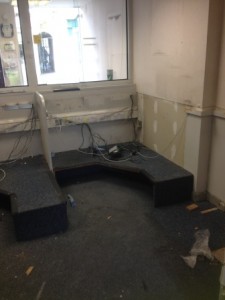 Then at half -seven this morning a local electrician and I started making the ground floor electrics safe by switching off and isolating the bowl of spaghetti that was the wiring.  Oh – and this included turning off the Alarm system too … cos no-one has the numbers for it so it needs to come out and be replaced.
But once this was done I spent a morning with my electrical screwdriver and snips and removed all the wiring from all the bank equipment ……..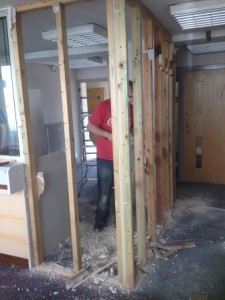 …and a Gold Medal volunteer Andrew showed  up to help strip the plasterboard from the stud walls, bag it up and get it off site.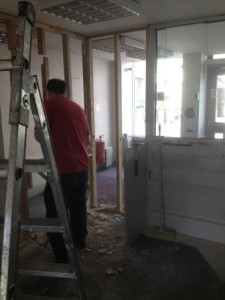 At this point we began to get a glimmer of the space that was waiting for us when the "monoliths" were removed ……..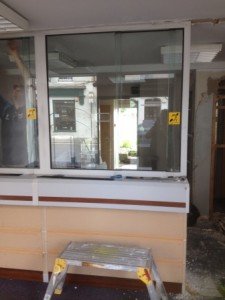 … cos they look nice and light and easy …..not … solid and heavy and … well I never dismantled a bank before so it was all "make it up as we go along" kind of stuff.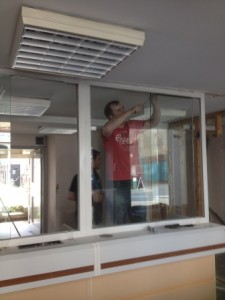 But we figured out how to remove the rubber gromits … and Andrew and Scott (IT professional and Economics Student) were cracking ahead …. what else do you need in shop-fitters? LOL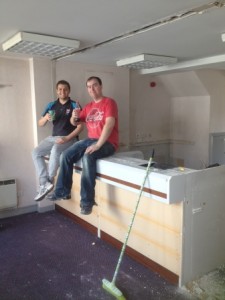 Looking smug as anything cos they figured out how to remove really heavy bullet-proof glass without killing anyone ……..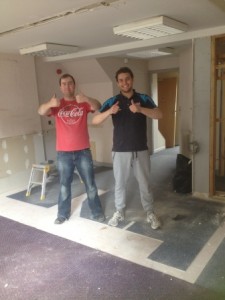 And a couple of hours later …….. NO UNITS!!!  All gone .. everything out the back door and GONE!!
Now we have a massive large open plan space to play with .. and yes it needs some making good – it needs a plasterer and of course a return visit from the electrician before buckets of paint ned to be applied ……. but we  have broken the back of it indeed.
BEAUTIFUL SPACE
Then one last lovely volunteer collected me at 6pm and took my to the nearest city to buy all the paint that we will need for the whole building and dropped it back on site.
Which is why I am sitting at 9pm letting you all know what the last couple of days have brought  … and admitting that NOTHING is being painted in DS1's bedroom tonight ……. I can barely move never mind wield a brush LOL.
My plan is a bath and then my bed .. before getting up and doing pretty much the same again tomorrow.
Thanks to all my volunteers who heard my Facebook plea for help after I was let down – without you I  might still be staring at those bank screens and wondering what the heck to do.
I love it when a plan comes together … and by hook and by crook we will get it done just you wait and see