The sun is out .. and so are my legs … so today I made some Lemon Shaving Scrub as a frugal treat all for me!!
Bare legs are a totally frugal way to go .. after all now I am a "Full-time Frugal" I have been looking at the costs of being in employment.  Now I am not saying that a few pairs of tights every week are going to break the bank .. but if I can save the pennies during the very warmest days by daring to bare it can only help.
But my pins are in need of a little TLC.  After all the beach weather has arrived but the beach body still hasn't been delivered so I  am all for making the most of what nature gave me.
Granted after a couple of weeks with skirts and tights they are not as "peerie-wally" (white clay coloured) as they have been through the winter and I have really lucked out in that two pregnancies haven't left me with any unsightly bits (you know those painfully sore varicose veins) … but my knees and heels are a bit dry and itchy and  everything needs a good frugal once over with a new razor blade.
I never use shaving foam … and probably won't until the big lad needs to start shaving .. looks across desk … in like a fortnight probably!!!!  EEEP!!!  A squirt of hair conditioner and a quick whizz over with sharp blade and the job is a good one.
But sometimes – I want the feel of slinky soft legs that you get when you have really gone to town and done the whole – scrub, shave, moisturise thing … only without the big spend of course.
So of course you know I would have a recipe … actually can I confess? This is the leg scrub that I uses to make in rather larger quantities when I ran the Drag Cabaret …. much hairier legs than mine have been pampered using this potion .. and if works on blokes hairy legs it can work on those of a Middle Aged Single Mum surely!!!
Actually we used to use this on  chest hair and other various hairy bits before everyone was waxed on a Thursday ……. and that is a sight no red-blooded woman should ever have to experience!!  Still … working with Drag Queens gives you a lot of memories and few really good friends and a few very useful beauty tips … and this my darlings is about as frugal as you can get.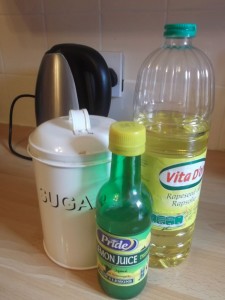 Lemon Shaving Scrub
Not really a recipe is it?  But here goes ….. sugar in a jar …..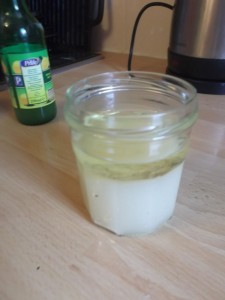 … oil and lemon juice on top. Screw the lid on tight ……………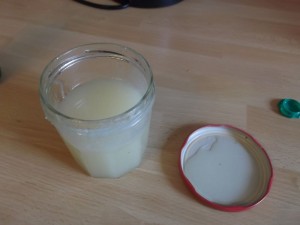 …………. dance around the kitchen like a mad thing to shake it all together and you are done!!
Everything mixes together into a slumpy sugary slurry – that you can scoop a tablespoon or two out of and use to scrub all over your legs paying special attention to your heels and knees.
When your legs are all scrubbed and still oily you use a razor to whisk off any hairs and then rinse really well.  I like to do mine at night and let the little oil that is left sink in overnight to make my legs really soft.
Now … Elf and Safety Ladies!!!  This is OIL!!! So be careful if you are using this in the shower  rather than sitting on the side .. the base will get very slippy!! Nothing a scoosh around with something soap based won't cure but please make sure you don't take a tumble.
I get around this by doing  my legs and then swish and swipe the bath clean so that I can shower in the morning .. but take care!  Bare legs are cute .. bruises are NOT!!!
BTW – you will have scrub left in the jar – so I dump my jar by the kitchen sink and use it daily to give my  hands a wonderful treat every night after I do the washing up.
So anyone else got any ideas for frugal beauty tips?  I am in the mood to treat myself but with the Emergency Budget imminent I am thrawn to spend any money on myself just in case.
Let me know how you keep yourself looking glam without breaking the piggy bank XX