Mostly my day-to-day work is office based .. sometimes though we get to go Oot and Aboot with our brand new MP.  Today was a big day in our  constituency with trips organised to some of the big employers in our little corner of the country.
Recognise this chap?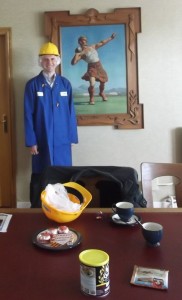 No – not the totally hilarious picture of Stephen in a hairnet and hard-hat … but the one over his shoulder?
Just outside our town is the Scott's Porridge Oats factory .. and apart from manufacturing literally millions of meals every day from the facility they are also pretty good at supporting the breakfast clubs and food banks in our area.
I bet everyone knows the Scott's Porridge Oats guy … he has traveled the world on wee cardboard packets and is just one of the iconic products we have here in Fife.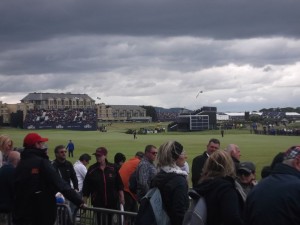 Here is another "iconic" product from our wee corner of the planet …. Golf!!  St Andrews is the home of the golf and this weekend is the home of the Open Championship.  Its like the whole of the North-East part of the area goes Golf-daft for a week or two.
Look at that sky!!! Mind you they had a whole 12mm of rain this morning in 20 minutes and it was one big puddle until the ground staff got busy and …. well basically squeegeed the greens.  So much rain fell overnight the  whole place was awash.  Thankfully the links course is built on a few hundred feet of sand so it drains away very quickly once you can persuade it to start.
Mind you every B&B is booked, every hotel is stuffed, every restaurant and cafe and so on is running at full capacity.  The money earned over events like this carries many a family through the winter ….. we are not exactly sure how much it contributes locally .. but they estimate somewhere north of £50 million is brought into the country over the week.
Totally spoiled in that we were given a guided tour of the Media Village .. where all the Outside Broadcast lorries are parked up and the camera-men and crane operators, and editors and mixers and … thousands of staff keep the golf output churning out 24 hours a day to over 60 million viewers.
If ever you have been in St Andrews on a foggy Tuesday in February you would wonder that it could ever be the centre of the golfing universe every now and again ….. but it does .. and I know that by Wednesday all that will be left are some seagulls on the sand-dunes and everything will be packed up and have moved on.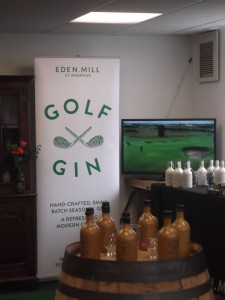 I know …. Gin!!!  Golf Gin indeed …. its actually one of our local success stories.  A distillery set up on the site of an old paper-mill that is now making award wining gin, beer ………………… and whisky!!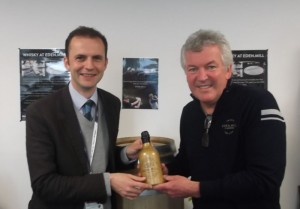 In fact – see that bottle being held lovingly in their hands??  That is the first whisky to be bottled in St Andrews in over 147 years!!!  I mean, how totally amazing is that??
Whisky is massive in our economy – over £5 bn in fact ….. more than Iron and Steel manufacturing is worth in the whole of the UK. But to see new distillers setting up in new settings and creating brilliant products using ancient methods gives you a real feel for the past and the history that sits around us.
So Santa .. if you are listening … a pink bottle of buckthorn gin or a gold bottle of whisky would sit rather well in my stocking this Christmas …. cos its coming you know

Well … don't ask …. don't get I suppose!!!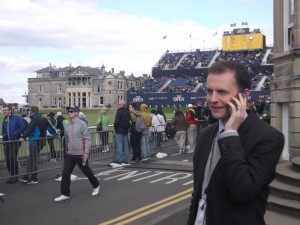 Bet you recognise the grey building from the telly don't you?  Its always seems to be in the background when they are talking about golf.  The Official Old Course of course

 And Stephen just checking in with some voicemails .. yup!! even though we ha a day Oot and Aboot .. the work at the office still needs to be dealt with

But now … now its the weekend … and I need to go cuddle my kids … and maybe eat a bowl of porridge .. or maybe pour myself a wee dram … what do you think?