Planning Costs Nowt so they say … and even a beggar can dream.
Mind you a bit of forward planning can save you a fortune in time and money if you have a big project coming up and you have very little of either to spare.
This summer I have promised my big lad .. a grown up room.  A few years ago when all he wanted in his room was the fun of bunk-beds I managed to find a wonderful chunky pine set on Freecycle and he has been as happy as  an eagle up high in his own little eerie ever since.
Now …. well now he is taller than I am, I have finally managed to get him to accept that the time for bunk beds may be passed .. and a bigger bed may have to feature in his future.
So tonight after dinner we sat down to "come up with a plan" …. one I hoped wasn't going to break the bank.
So we hit the internet – coasted a little though pinterest … and we found some pretty cool stuff.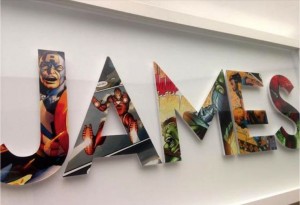 First off … just because its his name …and its not "Babyish" … its cool and retro and … well it's just cool – OK???  I figure that I can find a suitable frame in a Charity shop and invest in a Marvel comic and totally treat my young man to his own Superhero Name-Check.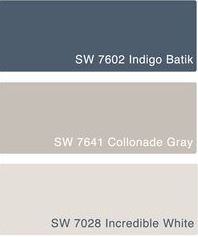 This is his first choice of colour palette …. I guess the time for tween primaries is well and truly past.  White walls, grey furniture and a feature wall in the intense blue ….. I'm liking his thinking already … especially as he loves his pine furniture but he is a little over the yellow varnish so repainting seems a frugal option indeed.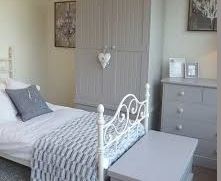 So we found a picture ….. but it was a bit "twee" ….. a little bit bland .. so we kept looking.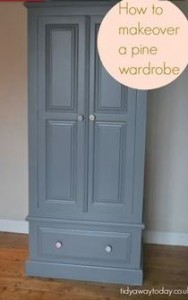 Wahey!!! Now there is a makeover ….. I know what you are thinking "Totally T.A.R.D.I.S!!!" so now we are thinking that a couple of pieces of furniture could be jazzed out in the intense blue of the feature wall.  Wardrobe maybe .. or his desk …… Still we felt it needed something to "pop" … a few bursts of intense colour in lamps, cushions or blanket that would stop it being all samey-samey.
Then he spotted this!!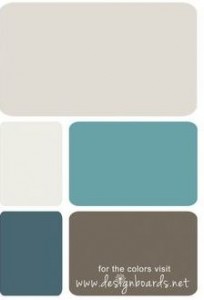 Yeah a few little splashes of teal is the way to go …… totally brings it alive for him.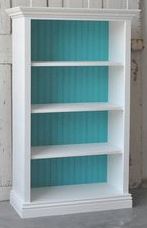 "Of course you can son" … you know how to handle a paint brush!!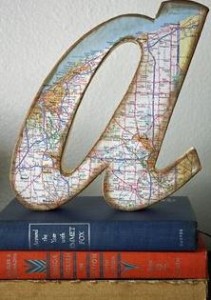 Just cos we both loved it so much ….. what do you think??
So now we have a plan of what he wants his room to look like I can actually start making lists of what we need to make a uber-frugal makeover.
By reusing and painting his furniture and finding a pine double bed from somewhere I can keep the costs down … then I can spend what I can on new underlay, carpet and a decent mattress.
You never know I might even be able to sell the bunk-beds for enough to buy the paint … oh the schemes ….. the dreams!!
But that is the point .. this evening this goal has moved from something we "might" do to something we "will do" just because we sat down and made a plan of what we want. I now know what is on my "wish list" when I am keeping my eyes open around the charity shops and coasting through ebay.
When the paint sale comes on I know what I am shopping for .. and how much …. everything is now so much clearer with a plan.
So four weeks left of school holidays and I want him settled in his new "big room" before he goes back …… which totally sounds doable until I realise that I also have to move us all at work  from my home office to a whole new office building that needs to be sorted out too.
Never mind "Full Time Frugal" I am going to be "Full Time Frazzled"
But I am a Mum with plan … I am armed with a tape measure and a clipboard and I am coming to get you new room …. do you hear??
……………. Ooh famous last words 

So how do you like to decorate?  Are you a room at a time gal or "this whole house needs doing now" kind of lass?  My whole house does need doing .. but I haven't got the time or money to do it all in one go …….. so what are your hints and tips?