Spending and feeling guilty – kinda! I have saved long and hard to do up the big boys bedroom.  He has done without so much for so long as we fought through our debts and go ourselves back on our feet.
He is a brilliant big brother (honestly – there are times when he has more patience with the rowdy red-head than I do). He is a diligent student and as responsible as you can expect any 14 year old to be … which is not much but his heart is totally in the right place even if his common sense sometimes goes walkabout. I was exactly the same and my Mum can tell some howlers!
My goal was to makeover his room as soon as I saved the money – to give him a quiet sanctuary that he can retreat to when the rest of the house has to take its turn in the frugal makeover. He works best when he can slip away, charge his batteries and return to the fray.
And still … today in the DIY Shed I had a moment when I felt kinda guilty at spending so much money ……. I'm so used to not spending that it gave me a moment of almost panic.
I went shopping for the colours in his palette.  Lots of white, some undercoat and white eggshell for trim and the dark blue and grey for the feature wall and furniture.
Everything planned – even knew that I was shopping in Wickes for as much as possible.  Its a "thing" I have about Wickes paint.  I love that they are high pigment, that they dry totally matt flat and best of all they are cheaper than some of the big brands.
….. totally brilliant in that today was also 20% off too!!!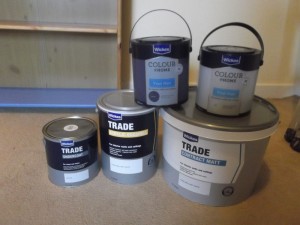 TA-DA!!!!  Thing is this little haul came to £98.00 ………… Oh My!!!
Now my rational head is shouting …. but the three tins of white will do ALL the ceilings and ALL the trim in  your entire house …every other room will only cost the price of a tin of paint or less. But still there was a moment when I thought "Blimey! that is a month's worth of food for our family sitting there!!"
I wonder if there will ever be a day when I don't compare a purchase to the amount of food that can buy our family .. everything seems to be measured out in weekly shops.
So I came home .. and finished three loads of washing, the ironing, the bathroom clean and hoovering .. all the usual "Day of Rest Chores" … oh and a "special one" of defrosting my two freezers to boot. So I feel calmer about the whole spending a pile of money thing … I think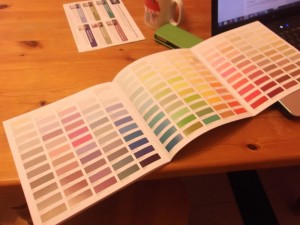 Actually – I really must … because after dinner I hauled out the Wickes colour chart and started "virtual" shopping for the colours for the rest of the house 

Haven't plucked up the courage to go shopping for them of course .. I think I might settle myself by using up what I have in the house for a week or two before I left myself loose with a shopping list again.
So – not a rational day.  Saved for a spend, planned for a spend, found the best deal to spend on …. and still my "Do you really need that, do ya? do ya really? Sure you really need that?" programming came into play.
Anyone else finding that they are simply getting out of the habit of being able to spend without thinking now?  Funny how the "shopping for pleasure" thing is no longer quite so alluring isn't it?  Or is it just me?