The Universe Provides …. at least it seems that every time I set a goal the people,places and opportunities turn up to make sure that the goal comes about .. well that and a healthy dose of "get up off  your bahookie and take some action".
Funny that – the harder I work the more goals I seem to achieve.

Well this morning was supposed to be all about this place: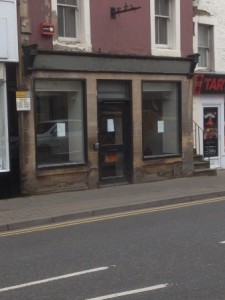 It's our new office space – looks a little tired and grubby but I bet with a willing group of activists ready to clean and paint and make good it looks fabulous in just a few days.
So I collected the keys this morning and then made arrangements with a local businessman to come and collect the Bank Screen and Security system fitted in the building – it was a local building society but we really don't need the bullet proof glass and massive locks.  All sorted for Monday .. although I am itching to get started I am determined that it will be done in normal working hours and not eat into my weekend with my boys.
The the phone goes …. "You still looking for a double bed for the big one?"  Ten minutes later this is bought: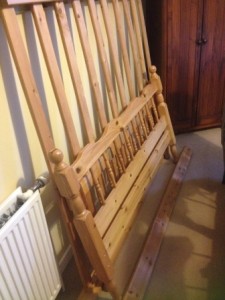 Pine double – ripe for painting … just £50 from local furniture charity ….. YEEEHAAA!!!
So now – well now I have to deal with this mess that I left yesterday ………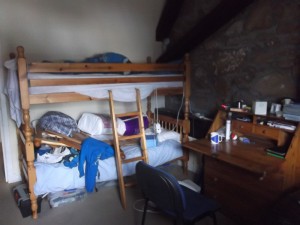 But my Mum offers to come over with the car so that we can take a load to the charity shop and a load to the skip ….. my Dad has my car at the moment so that Mum can take the kids out and about during the day which means that my black bags are getting filled but not getting moved.
So in the two hours that the wee one was at his pal's birthday party … we made quite a difference ……………..Big one moved downstairs kit and kaboodle and the room really stripped down.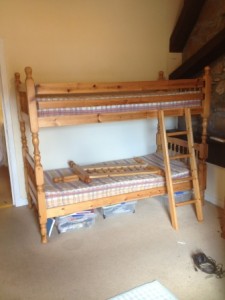 Nice solid bunk beds now looking for a good home … mind you I got them off our local Facebay pages and only paid £30 a few years ago ……. so I decided to take some photos and post them back up.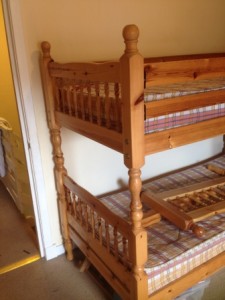 I was even able to get the bits from the attic that turns the bunk-beds into an L shape.  So the beds can be two singles, a standard bunk or L shaped set up.   So I ask for £20 for them ……..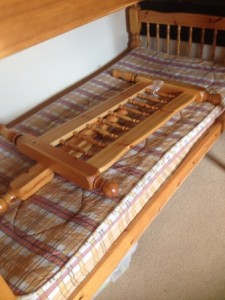 ……………….. and they sell in 7 minutes!!! Even better they are able to come and collect almost immediately!!!
They are off to a wee blonde four year old who shares a room at the weekend with his cousin.  They have been top and tailing ..  but I guess are getting a  bit big now.  Perfect home for such a solid piece of furniture and I know they were used before us in a room with two sisters from when they were five till they went off to Uni … then by the big one since he was eight .. now on to make another wee lad happy.
Can't see any of the modern particle-board lasting as well – can you??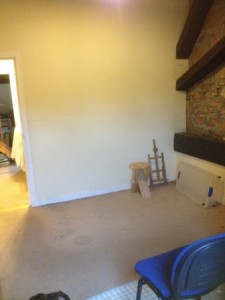 Look at the space that is appearing……………….. and a little bit of money back in.  Sure it's not enough to buy the new bed but it goes a bit of the way there.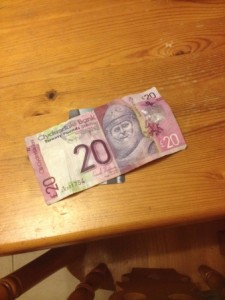 When I think back to where this room was this morning and where we are tonight it's like chalk and cheese.
Mind you – my feet ache and my wrists are throbbing with all the carrying …… but tomorrow when I get up I am ready to clean and start the prep for painting.
My lad may just get his room back by next weekend .. if everything goes to plan of course 

Still, with all the heavy stuff out of the house it really feels possible now …. so with a following wind, some lucky ebay buys and a few good days painting it might just happen.
Off to bed – too tired!! but very happy at how much we have got done today.  Team Colliar deserves a medal for all their work I can tell you!
Still – having fun!!