Time V Money – the age old conundrum.  Although in theory I should be better off now I am working permanently instead of freelance it has really not made a change in how we operate as a family.
We still work on the assumption that we are skint and now I get to knock off work at 5pm ….. or thereabouts …… seeing as today we signed the lease on our new office building and on top of committing to redecorating big ones bedroom I now have a property refurb to manage.
So tonight I grabbed the bull by the horns and made a start …. well in that I made a mess.   I started pulling out some bits and pieces that we will need for the room refurb and collecting them together.
Tossed on the bottom bunk it rather looks like a bomb has hit ……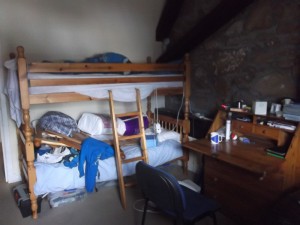 …. but tomorrow I move the big one down into one of the rental rooms so that we can empty his room and begin to decorate.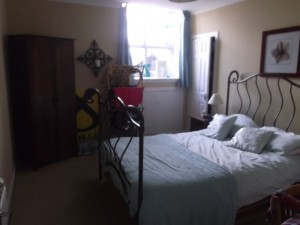 We will still be working from my home office whilst all the chaos in the house and up the road is progressing so I can't afford to get everything in too much of a mess.  The theory is that we can move everyone around one room at a time – emptying the room, redecorating  it and moving them back in without having the whole house in an uproar.
Of course -best laid plans and all that jazz – cos the reality is I will be coming home and pulling a 5pm – 9pm shift doing the house up this summer.
But there are lots of jobs I am capable of doing on my own – there are a few that I will need to call in some favours to achieve and a very few that I will need to pay someone else to cover for me. All help will be gratefully received and all favours duly paid.
But it will be worth it to have a house looking neat and tidy – looking pulled together intentionally instead of scrapped together from random items.
A load of bin bags – a lot of hot water and cleaning materials and some paint and carpet .. the rest will have to be fairy magic and creativity … cos the reality is that there is not a lot of time … and there will be precious little money either.
So off I go … bin bags to fill ….. books to move