Yup!! Happens to us all at some point …. today my email account got hacked and my email list got sent a link to a spammy "get rich quick" video.
Now – I know that those of you who I know on here and are totally financial savvy would have taken one look and thought …. "Ooops Elaine got hacked when she was out painting her new office" and moved on……. but I wonder what all the political bods on my email list must have thought

And that is the though that will keep me smiling as I wash up my paint brushes for the umpteenth time today … cos not only did two rooms get painted at the office … I came home and "cut-in" the big ones room ready for painting tomorrow evening.
Cutting in all the edges  is a therapeutic thing to do after a busy day .. well it is when there are no kids to feed and chase into bed I suppose.. which is just as well as the room I am painting this week is on the top floor and is full of ancient beams and cross braces.   Its a little more complex than the "once around the skirting once around the ceiling" of a normal room.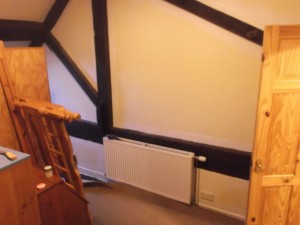 But I did it – I came home and painted till there was no more light to see by .. and now all that is left if to stand at my kitchen sink for ten minutes and gently clean my favourite Harris paintbrushes.
I'm afraid I am at the stage where there is much work going in and you can't really see the "aha" result yet.  Kind of like tackling my debt .. a long hard slog and then a sudden acceleration towards the inevitable end.
In the meantime I am holding the faith – trusting in the proces …. LOL .. truth is I am a stubborn old moo and I won't give up until the job is done

It'll look beautiful on opening night …… I know it will…..
I know lots of you are cleaning and painting at the moment too – how are you all bearing up?