After sitting watching the Budget yesterday from behind the sofa – the big question I had was "Who'd be young?" Our  kids got hammered .. the little ones at school who will grow up in poverty .. the big ones who will get no help to step out on their own until they are 25.
Today we figured out that most of the people that we work with here will lose between 5% and 22% of their family income next year.  Not only are here no pay-rises on the horizon (well when the economy is founded on zero hours contract minimum wage jobs there wouldn't be) but in real terms it will take families about 8 years to get back to the income levels they are at today… and in the meantime be taking the biggest Pay Cut ever.
Tax Credits were supposed to be the "top-up" that helped you back into work .. they ended up being the way that employers could pay buttons and leave the state to pick up the difference so you could pay rent and feed your kids.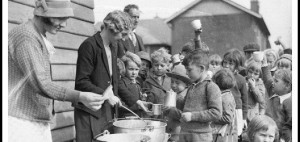 Instead of getting tough on employers to pay a Proper Living Wage … one that means you would not need to be topped up in order to buy the basics this government has scrapped the safety net and insisted on a National Living Wage that is actually LESS than the Scottish Living Wage.  A wage that goes nowhere near replacing the money lost by the removal of Tax Credits.
The reality is that the poorest will lose out massively, the middle will lose a chunk and the richest .. well they will get richer thanks to the new Tax Breaks around pensions, Inheritance Tax and Corporation Tax.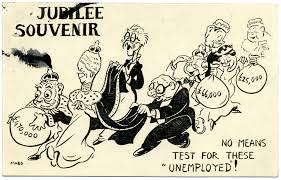 The long and short is that the poor will pick up the tab for the mess made in the financial crash.
Mind you – the conversation with my Mum today went along the lines of "You can't blame the cat for bringing in a bird – that is what cats do.  You can't really blame the Conservatives for a slash and burn budget .. that is what they do"
Doesn't make it fair – doesn't make it right … but I am always banging on about Democracy … well .. we have a Conservative Government because that is what the majority of the UK voted for …. they had their best returns in ages in England and Wales … and if you look closely you can see they saved their solitary seat in Scotland too.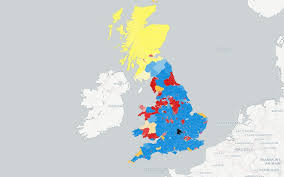 Now what I am not saying is "Suck it up sunshine – you voted for it!!"  cos the reality is that only 37% of England did vote Tory .. but in the first past the post set up that was enough for them to take the country.
Which they are … right down the circling plughole and into even more debt.
What I am saying is ….. I don't think we have seen the worst that is to come our way by a long chalk. This is going to go on for years …. there is no recovery on  the horizon … austerity doesn't work!  If you don't believe me head off and do some research and I challenge  you to come back with one country for whom an extended period of austerity has solved the problem.  Its a crock, it's a con, it's a lie.
But we are going to have to live with these choices  – with the loss of income, the uncertainty of what they are going to cut next (they intend to keep cutting) and the fear that our children's futures will be blighted by being raised in poverty.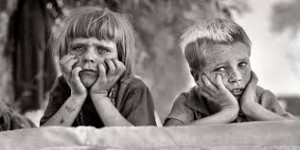 All we can do is hang together – is to share the skills and knowledge that we have as so many other women have done in depression years (Yes … we stopped having a recession quite a while ago and this situation has been quantified as a depression  for a while now).
Who knows ..when our grandchildren are grown maybe they will look back at us and marvel at our "Blitz Spirit" .. at how we made a quid do the work of five .. how we could "make do and mend" not because it was fashionable to do so but because we couldn't afford not to.
First thing is to be honest about how much our incomes are going to go down by …. no sense hiding behind that darn sofa anymore.  Now is the time to face reality and figure out how we will make up the shortfall.
To help you work it out – here is a simple calculator that will help you find out how much your income will change.  PLug in your figures … find out what your number is .. then go off and make yourself a good strong cup of tea.
After all everything can be solved by a good strong cup of tea apparently!!
Then back here for more of the same – making the very best of the money we have and trying our best to make a better financial future for our families.
BTW I am in there right beside you … I will be down £23 per week … which incidentally is my Food Budget for my whole family.  I'm heading off to my spreadsheet tpo figure out how I make the best of that news.
So what is your number .. how much will you guys be down every week?  Lets make it our mission to make sure that "no-one gets left behind" and we figure out some strategies that help us all claw back a little of that precious income.
So off you pop .. go find out … "And may the odds be forever in your favour!"