Edinburgh Festival Adventure – it's beginning to feel a lot like a family tradition here at MFin3 HQ.  Every week since Christmas I have saved up £2 in a jar to treat my biggest to a set of tickets to go to the Edinburgh Festival on his birthday.
Thankfully due to judicious early planning I managed to have a boy born on the "Two for one Tuesday" or "Preview Wednesday" of the Festival every year so our money goes as far as we can make it…… it was planned that way … honest LOL
Combined with Grandma stumping up for a pizza lunch and the blessing that is "Kids go Free"  on the trains during the holidays we are really racking up the frugal planning points I can tell you.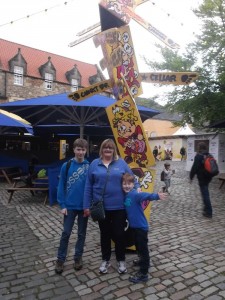 You'd never know that they were family would you …. somehow the three of them got out the door this morning in matching sweatshirts .. still it makes them easy to find when they are dressed as a wee gang.
So we started off at The Pleasance ….. which must play host to thousands of shows during the Festival.  Our first show is usually a "kids one" .. that way the little red head is happy to trail around after us all day if we can keep him talking about the first show he has seen and what his favourite bits were.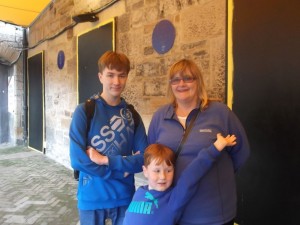 Erm!!! Diva …. much?  Waiting in the queue to get in ………….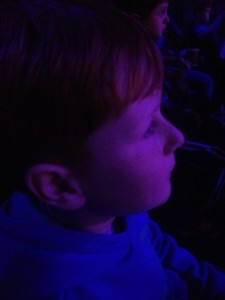 …………… lights down …. Oh I am going to miss those smooshy cheeks when he is all grown up!!!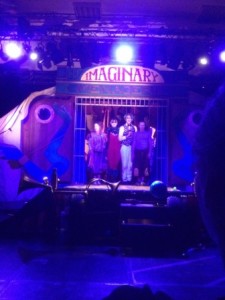 The cast of "The Magical Imaginary Menagerie" …. great stories, crazy cast and about a zillion props … perfect start to the day.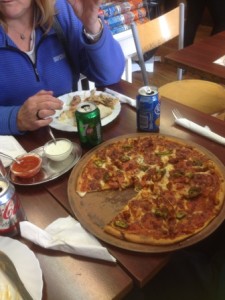 Then a shot yomp across town to Nicholson Square and a favourite Turkish Kebab cafe .. it does the most brilliant pizzas at much less than tourist prices.  Its a bit scruffy around the edges but Turkish waiters and kids – fabulous mix!!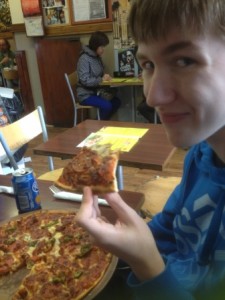 So the birthday boy waded into his 12″ Hot and Spicy …………………..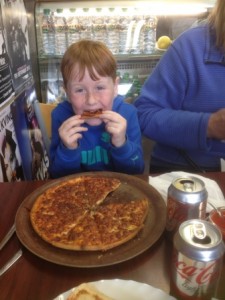 …………… and the rascal started to hoover up his 9″ Margarita ….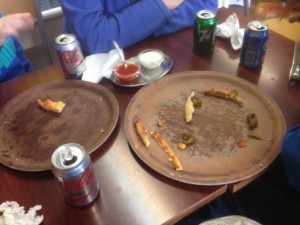 … and I mean HOOVER!!! Seriously those boys can eat their own body-weight in pizza.  I suspect hollow-legs ….. or something involving time travel, quantum fields and androids!!.  Off again to Bristo Square as our next show was at The Gilded Balloon ….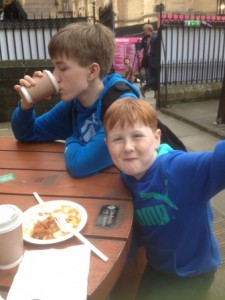 But not before a reviving cuppa …. nice and strong and decent coffee from a Barista who knows what he is doing …… Oh and Belgium waffles with caramel sauce for a red-head who decided he could fit in "a little something!!"  Seriously .. he is seven .. where does  he put it all???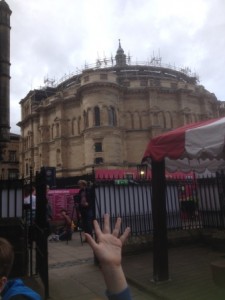 The Uni building is still being renovated … the scaffolding is much higher than it was last year.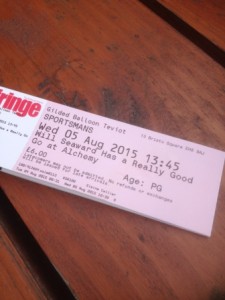 Our next set of craziness .. a comic who does Alchemic experiments whilst keeping you rolling in the aisles … and unfortunately this time he did not create "The Philosopher's Stone" … so Team Colliar didn't come home filthy rich with the ability to transmute any base metal into gold.
Back to work again I suppose

Mr Will himself ….. he is as daft as the brush of hair on his head … bonkers!!!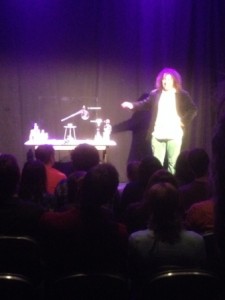 A post waffle meander … around the side of the castle through the Grassmarket …. and some of the old walls.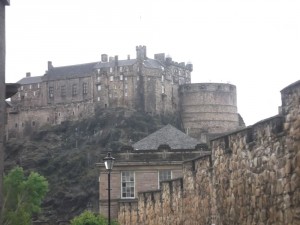 Sometimes you turn around in Edinburgh and catch sight of scenes from various movies … its quite a small city and always feels very familiar.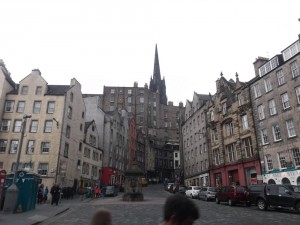 Then down the Royal Mile again .. to see all the street performers that come out in force after lunch. The "still as a statues" are the wee ones favourites …..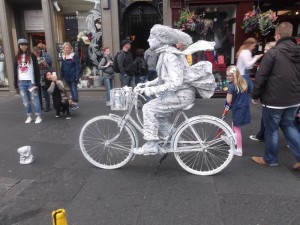 Or the ………………. "How are they doing thats?" ……….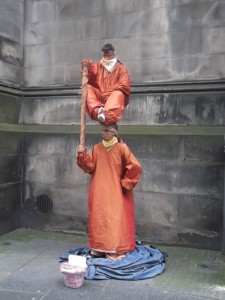 The big one loves a juggler – especially if he has all the patter to go with it.  This guy had a finale that involved swallowing a sword … as street theatre that was a little too "up close and personal" for me (shudder).
Still as someone who can't catch a ball to save her life I am always impressed when someone has such fantastic ball control.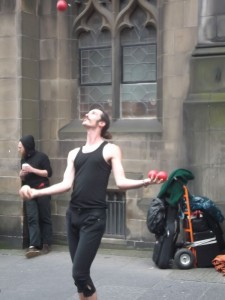 They look like they should have "Wanted" stuck beneath them ….. but no …..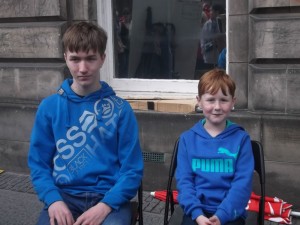 …… we persuaded them to get caricatures done by a street artist.  I figure that next year the big one might be too "grown up" so wanted a snap shot of "little and large" before the time drifts off.
S'funny …… but that does look like my boy!!! XXX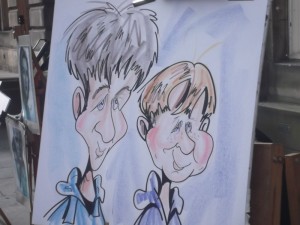 And between the dimples, the freckles and the riot of red hair …..that is totally my wee one!!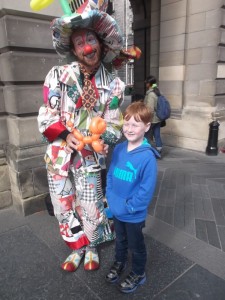 And as  a reward he choose to get a balloon poodle made by "Squeaky the Clown!" It made it safely home and is now on his bedside table in pride of place.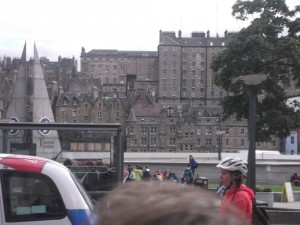 Down the South Bridge and over Princes Street to St Andrews Square ………………….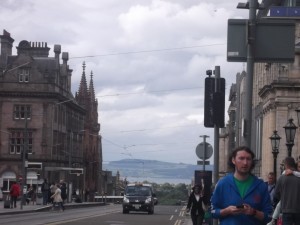 The funny thing about Edinburgh is you can pop up a street and can suddenly see for miles .. that green at the end is Fife and the water in between the Firth of Forth.  We can recognise the shapes of the hills at home right from the High Street of our Capital City.

The bit you don't see is down by the water … down there is a place called Leith.  Both part of the city and a very separate and distinct place.  Appropriate really as we were heading for St Andrews Square and the Famous Speigeltent  where a fabulous production of "Sunshine on Leith" was being staged.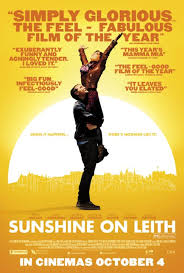 I won't be offended if you haven't heard of this musical – but you may recognise some of the music in it ….. from our local lads "The Proclaimers" .. who actually went to the same school that my biggest does now.
FAB – u – LOUS!!!!  Totally brilliant end to a busy day … and so home on the train with two very tired boys (and very tired Mum and Gran)
I don't know how many steps we did yesterday .. but we walked from ten in the morning till 8 at night .. and got on the train just as the weather broke …. Perfect!!
So that is us … till next year of course ……… always a pleasure to spend time with my kids in a great city with great theatre.
TTFN – now it really is time to have an early night for a change

These feet need a wee rest!!! So does anyone else have "traditions" like this – favourite places that they revisit with family again and again?