Frugal Chalk Painting for Furniture – my favourite way of making over some of our cheapy furniture.
Its frugal cos its home-made chalk paint … really simple and really cheap once you know how – with the added benefit that if you can find the colour you want to use in cheap emulsion you can quickly convert it into chalk paint and have a designer finish without the designer price tag.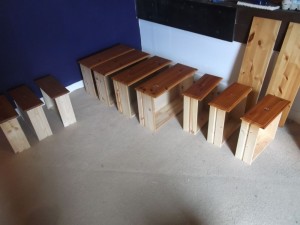 So last night I left everything all laid out so that I would have no excuse not to get on and paint today … even though I knew the last thing I was going to feel like was getting on my painting clothes and getting on with it.
So three cups of coffee later .. I did get off my bahookie and get started.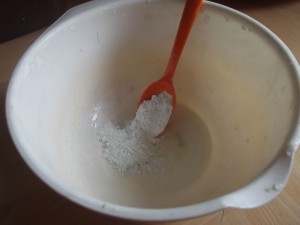 2 heaped tablespoons of powdered grout (yes the stuff you use between tiles) into a bowl.  I like to mix mine in a bowl because its important to make sure you have no lumps and a round bottomed bowl means that there are no corners for lumps to hide in.
Use just enough water to make the grout into a thick smooth batter consistency.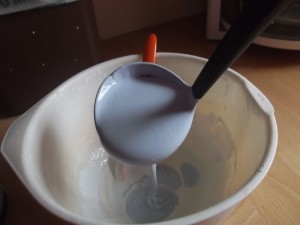 Then add a good ladle of emulsion paint.  I mix this up "little and often" when I am working with it – eventually the grout goes hard and you can't work the paint anymore .. so make up a little, use it up and them make some more after cleaning the bowl.  You don't want to ruin your paint by mixing up a big batch and it all seize on you.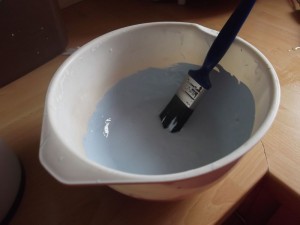 Mix really well – so that the grout is all the way through the paint .. then grab your brush.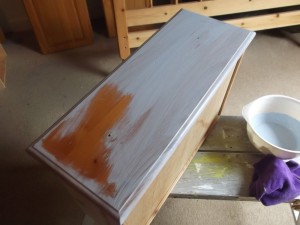 Work quickly – slap on the paint in a thin layer.  This first coat is like an undercoat so you just want to cover the surface in a thin, even coat and move on. Look how blue the paint is in  the bowl – and even when wet its a bit "baby blue" .. thankfully it dries a very soft grey which was just what he chose.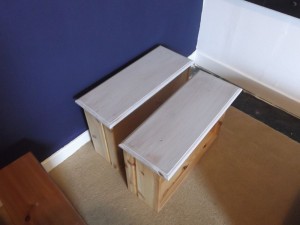 Then set your piece aside till it is very dry.  On a warm day with the window open this can be just an hour or two before you are ready to apply the next coat ….. I had so  much furniture to cover that I only just managed to get around it all in a day with one coat .. so I will have another couple of evenings finishing off this week.
As an aside .. how brilliant does that blue wall look now that it's fully dry?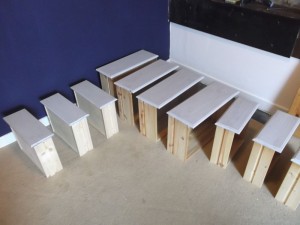 So I got myself a little production line going .. drawers …. doors .. bed bits and onto the furniture carcasses in due course.
I find that you can do a lot of thinking when doing a big paint job … and I keep my laptop to hand so that I can play music to work too.  This morning I moved on from The Carpenters to Elton John before ending up with "My Fair Lady"
I know you can tell a lot about people by their taste in music .. but please don't analyse me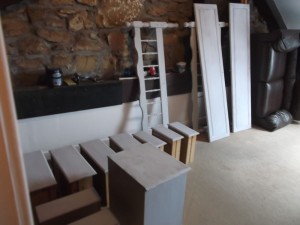 All of a sudden all the rather dark and scruffy pine bits and pieces are beginning to look a whole lot more upmarket … and that is just with one coat on.
Light is bouncing off the lighter colour and gets sucked in by the darker …. its really going to lift his room.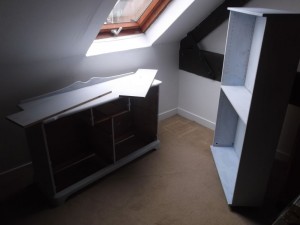 Then just about the end of the music I came to the end of my third ladle of paint … chalk paint goes a loooooong way. TBH by this time I had had enough … and decided to cook my kids a lovely dinner instead of making up another batch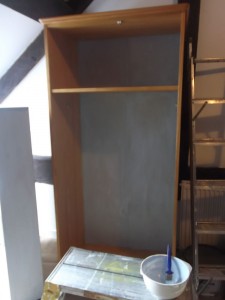 Because of the amount I am painting all at once this may take another session or two to work through … so I will start on the wardrobe the next time before lightly sanding the pieces with a sanding pad, wiping with a damp cloth and brushing on a second coat.
The day after .. when the paint is very dry again I will very lightly sand, wipe and then smooth some furniture wax in to finish.  That way I seal the paint and produce a fairly hard-wearing surface to finish with.
But it's all looking great … even though it costs hardly anything to achieve … onwards and onwards my lovelies ……… these will get finished soon I promise.
So what have  you all achieved this weekend … I know there are some makeovers happening elsewhere .. how are  you all getting on?