My Blue Period – every artist deserves to have one don't they?  I have paint, I have brushes .. that makes me an artist doesn't it?
Well in my own wee universe maybe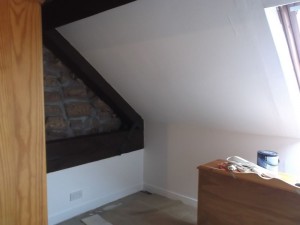 Still my – create a blank canvass to pop everything else into project has worked out pretty well …. all the cutting in was totally worth it, as was the late night last night when I got up this  morning to look at my handiwork in daylight and decided ………………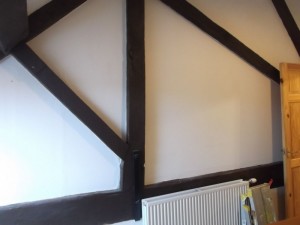 …………. the job is a good 'un!!! Pristine white walls with dark beams ….. can't get away from them in this house. It was built in 1860 and was a Church Meeting Hall .. so all very dark and beamy if you see what I mean.
Still this morning in a rare beam of sunshine ….. pretty as a picture.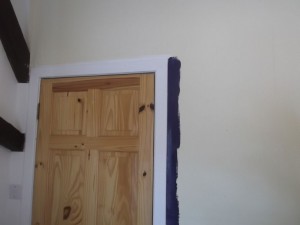 So hands up anyone who has ever "second guessed" themselves when they have started to paint on a "statement colour" ………………. Oh My!!! but it looked so darn dark as I cut in against the white.
Scary!!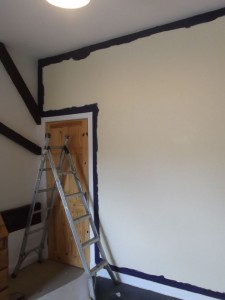 Really not convinced at all that this is the way to go …. maybe I should talk to him about having his walls all white …, and safe …. and ordinary.  Admiral Blue is just so … blue!!!
Maybe we should just go back to the old plan – that although was safe and boring was at least something we knew and understood.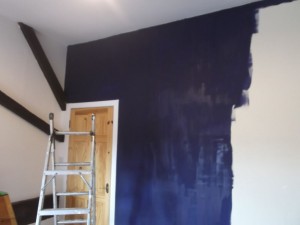 I mean – its just too dark!! and patchy .. and I know that its still drying out but I swear there are some streaks and it just looks to messy for words .. I am sure that I have made a mistake!!!!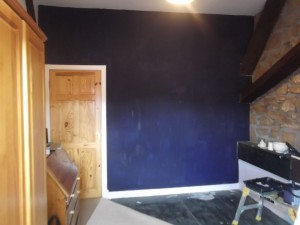 Then as it dries …. it goes all soft and velvety.   It becomes intense and rich and opulent and as the last few swipes of the paint pad goes on I decide that this is the best choice I have ever made.
In fact exactly the same process that I went through when we decided to tackle our debts as a family – we decided on a brave alternative reality, got ourselves organised and started nibbling around the edges .. as we were filling in the middle those little voices started calling out to us "be ordinary" .. "but everyone is in debt" …… "what made you think you could be anything but average?"
But the moment the end was in sight .. the new exciting reality was showing up … we totally knew that getting out of debt and staying out of debt was the best thing EVER!!!!
Still is BTW – still is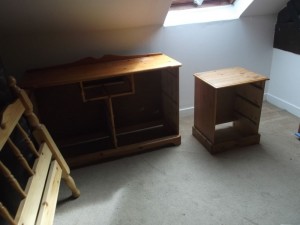 So tomorrow's challenge is to take my big lads oddball collection of pine furniture and make them all chic and designery.  What do  you know?? Spellcheck thinks that designery is a word – wonders will never cease.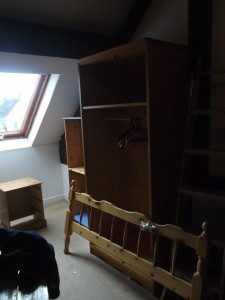 Everything we have collected over the years has been bought for a few pounds at our local furniture charity or acquired as "roadside rescues" or from friends passing on to us as they have changed their styles.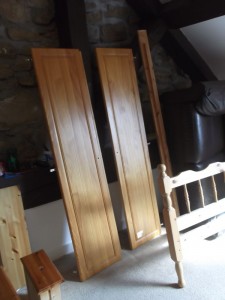 It's all solid timber and well made .. but in that glorious yellowy varnish so beloved of British furniture finishers. My Scandi mates have gorgeous pine furniture .. how come all of our have this yellowy varnish on them?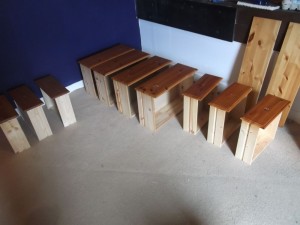 Well tomorrow they will be transformed with a couple of coats of pale grey chalk paint and a liberal swipe of furniture wax. They will be morphed into totally gorgeous designer pieces … for the cost of a tin of paint.
But this evening they have been washed and sanded and wiped and prepared …… and I have left them laying out so that it will be easy to get started in the morning.  No excuses …. because I have worked so many hours this week that I will be looking for excuses not to get started .. trust me on this!!
So off I go to have an early night … and to dream of layers of paint magically drying into soft shades of matt loveliness … if only I didn't have to apply every layer by hand – Eh?
Keeping on keeping on my lovelies – baby steps now towards the finish!!!