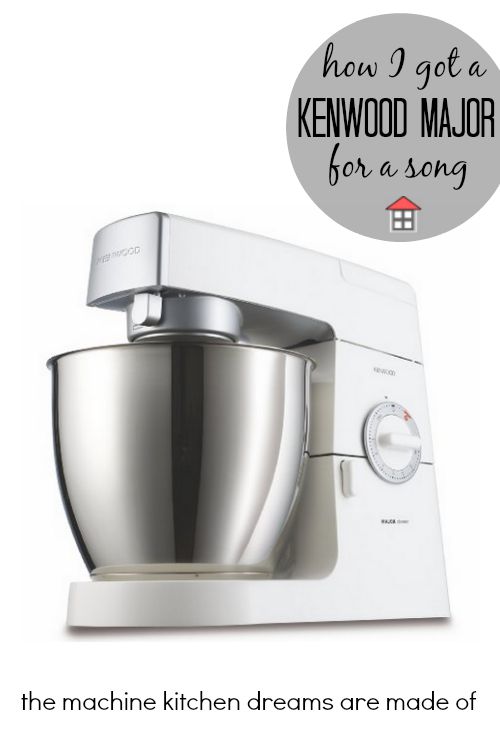 This post contains affiliate links.
Everything comes to She who waits is a common refrain … but sometimes a lass can die of boredom waiting for desires to be fulfilled.
I'm not referring to the new poll that came out today that showed that YES were slipping ever further into the lead …. no not that desire – another one ….. I have a few!!
Today one of mine arrived with bells on – in the frugalist was possible.
I have long dreamed for the Rolls Royce of Mixers to grace my kitchen.  A Kenwood, with a solid motor, hefty engineering and a whizzy balloon whisk to make the fluffiest of French Meringues.  Oh I have gazed lovingly at pictures on Ebay – but even second hand they can run to hundreds and I think to spend that kind of money on a "want" when my Magic Car Hermione isn't worth that amount is just wrong.
And when  your significant other is a seven year old red-head there is no point writing to Santa is there????
But look who I found lurking unloved on the bottom shelf at the very back of a warehouse looking very sorry for herself ……………….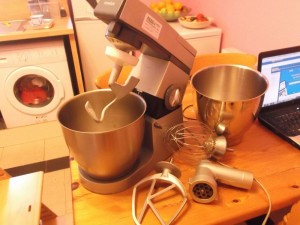 A Kenwood Major Classic …… sweetly silver and grubby as anything.  Electrically tested for sure – but there was an actual spider making its home in the bread hook as I slid the darn thing out onto my lap on the floor and gingerly counted out everything to make sure it was there.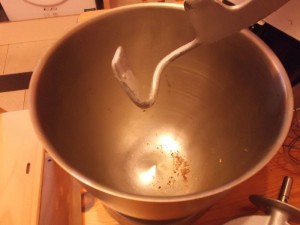 Shudders at the thought of whichever dark cupboard this lovely has been living in these last few years.
Silver Lady was marked at £14.50 ….. and at first I read the price and thought it read £145 … cos that actually would be around about the price I have been looking at ……. So I took the number to the checkout and asked the lovely Silvia if she was sure about the price.  I held my breath … but no … £14.50 was all she wanted ….. "It's just a food mixer" …. no, no, no …. it's THE food mixer!!!!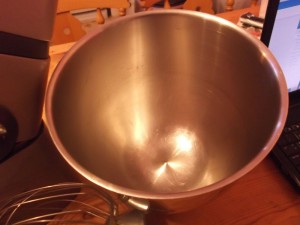 Being stainless steel of course I knew she would scrub up like the princess she is … look!! Shiny!! Shiny!!!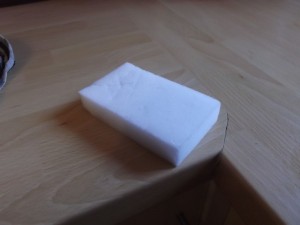 Do any of you guys use these "Magic Sponges"?  Brilliant aren't they – clean up everything a treat without chemicals as they are just abrasive enough to really scour the crud off in a jiffy.
Did you know …. that despite the fact that you can spend anything up to £7.00 a pack in some shops to buy one that if you pop over to Ebay you can buy a bag of "melamine sponges" for pennies instead.  Guess what?  they are only the same thing you know .. so guess who has a bag of 100 she is slowly (very slowly) working her way through??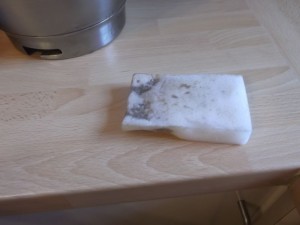 Mind you just the job to get into all the mucky bits and give them a right good scour out.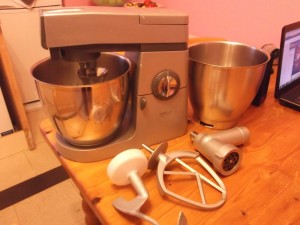 Look how she shines (strokes bowl) … you would never guess that £14 and one hour ago  this was relegated to being a home for spiders!!
So happy to have a dream fulfilled .. especially with such a frugal ending.  So I see lots of cakes in the future for my two lads that is for sure.
Mind you the eldest has just pointed out that at £14.50, Silver Lady is probably more expensive than the car still LOL.
But like Hermione the Magic Car, this beauty is born to go on and on and on!!  Good solid engineering, not flimsy plastic crap.  So Happy! so Happy!! It's like Christmas here at MFin3 HQ tonight!
So tell me … what one thing have you waited for so long that you couldn't quite believe it when it arrived?