Sometimes being frugal is just pants!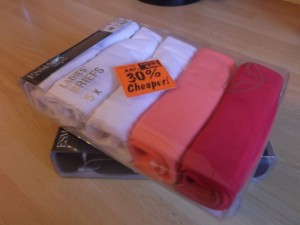 Mind  you I can shamelessly confess that they were purchased at a stonking 30% off!!!  Thats like 70p a pair!!!
Mind you I bought a couple of packs at the beginning of the summer when I could no longer hold my head up high and peg out my M&S favourites.  They had gone that lovely sad grey that no amount of Oxi-clean or drying in the sunshine can clear.  So I lashed out and bought two packs at … wait for it .. the full price of a fiver!!! GASP!!!
And I washed and wore them … and they were fab .. a great fit for me and a fantastic fabric that washed beautifully.  So I went back to buy more … but they were no longer on offer at my Supermarket of Choice.  Well you know how it is – they have stuff in the central hoppers for a week or so and when they are gone they are gone!!!
SAD FACE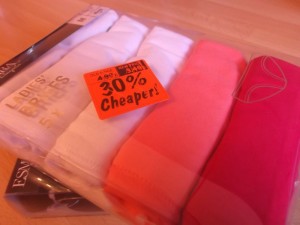 But today when we popped into the supermarket on the way home from the coast to buy the weekly shop (£21.17 if you are interested!!) … there in the bargain clearance bin were two precious packs!!!
Honestly  you would have thought I had won the football pools or something I was so pleased!! So pleased that one of the staff asked what I was grinning about – and when I told him said that I should have asked if he had any and he would have "gone rummaging for my pants" … then realised what he said and scarpered pretty fast. Oh I shall milk that one the next time I am in.
All laughing aside – I bought these not because they were on sale – but because I knew at the price they were marked at they were a bleeding bargain. I knew they were great quality – I knew that I would buy them again at the full price and that if I found them any cheaper I would snap them up.
Its the same strategy I use when filling up my stock cupboard – knowing what we eat – setting a price point that I am happy to buy at and then stocking up when the price comes crashing down.
Mind you- chicken breasts on offer don't make me nearly as happy as my snazzy new pants do!!
And look who else is happy???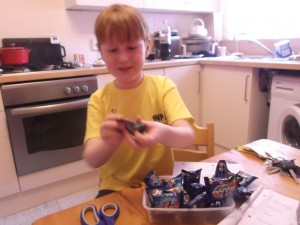 See that pile of teeny packets in front of him?  They are the little plastic animals that LIDL are giving away with purchases in their new campaign – one for every ten pounds spent and we can usually spend two tenners a week.  This has become a bit of a highlight for the red head.
But see how many he got this week? All handed to him by the people in front of us in the queue as he chatted away to one of the till operators about how excited he was going to be about the two he was going to get this week and how he hoped he got a "doubler" cos he was going to give it to his best friend at school.
Now I like to think it was his childish enthusiasm .. or the fact he was so super-excited to be getting two of them this week …. but I have a sneaking suspicion that his yellow t-shirt may have played a part

 That and the fact that he so very sweetly said thank-you when they offered of course… and the fact that I suspect a few slipped in from the till operator too.
But he is a very happy wee lad this evening playing games on the living room floor and chattering away to his new toys.
I guess the little things please us both very much today ……
Oh and if you were wondering why he was in a bright yellow t-shirt that is cos he was out at work with me today taking photos in Anstruther at the launch of our next campaign……. seems like we just had one and now we are in to another ….. still, that's grassroots politics for you I suppose…. and we even had blue sky and sunshine – which trust me has been in very short supply this summer I can tell you.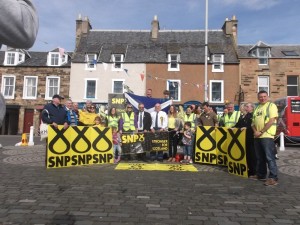 A happy Mum – a happy boss – a happy boy!! Pretty good day all in all ……Now – I am off to wash my happy pants!!!
So what barginacious deal had made your day recently??