Butternut squash, carrot and lentil Soup …. just the thing for workday lunches when the weather is hovering somewhere between "chilly" and "Baltic".
Also useful for using up that bit of butternut squash left over from another recipe – mind you pretty much all my leftovers end up in a soup in one way, shape or form….. or a salad … or a curry!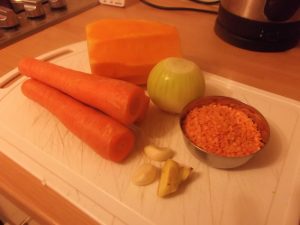 Butternut squash, carrot and lentil Soup
Half  a Butternut Squash – peeled
3 medium carrots
1 small onion
2 cloves of garlic
Half inch piece of ginger
Large handful of red lentils
Salt and pepper to taste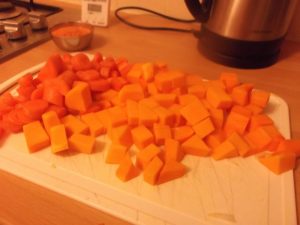 Chop all of your vegetables .. well D'uh!  I know but you know you need to start a recipe somewhere.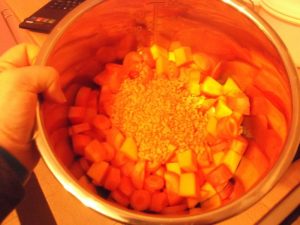 Then everything into a pan with a litre of water … or 750ml of water into your pressure cooker.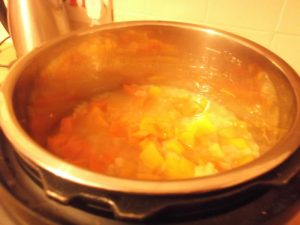 About thirty minutes on  the hob or 10 mins at pressure in your pressure cooker and everything will be nice and tender.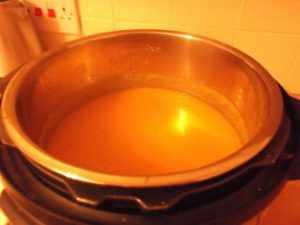 Quick blitz with a hand blender and adjust the seasoning and there you have a slightly sweet and slightly spicy velvety soup – perfect for popping into a soup mug to take with you to work all week to save you a fortune on buying in a lunch.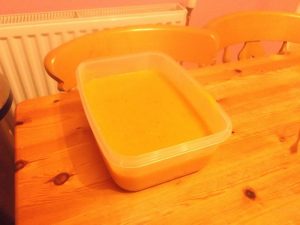 I pour mine to cool into a big plastic storage box ….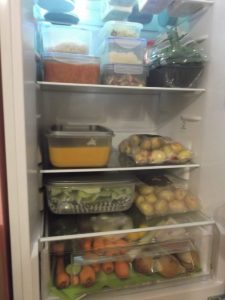 …. and then tuck it in the fridge ready to scoop out a ladle full or two into a microwavable mug in the morning.
Funny thing is that first thing in the morning I am usually looking at the soup and thinking "M'eh! I don't really fancy that!!" … but come lunchtime and a three minute spin in the microwave at the office I can usually be convinced that I am an utter Domestic Goddess for being so organised that I don't have to leave the cosy office and head out to get something.
It also saves me the £1.90 I would spend on soup at the local cafe …. lovely though her soup is I love overpaying my mortgage more.
So what have you prepped today that will make the week at work go more smoothly?