No Cheese Cheez sauce – what on earth is she on about?
Well – in a round about way its a request from a friend who has just been diagnosed as Type 2 diabetic and is working with a very enlightened GP to medicate herself (and then hopefully cure) her diabetes using food.
Thing is – although the guidelines for her new way of eating are pretty easy to get your head around – basically very low fat, vegan, high carb and wholefoods based its a whole different way of eating for her.  She is struggling to come up with interesting ways to prepare her food that gives her a great taste but helps her control her blood sugar.
(Now if you don't mind …. I totally get that received wisdom is that diabetics need to restrict their carbs but she is being VERY closely monitored by medical professionals so don't shoot the messenger, I am just here to jazz up her dishes a little)
Thing she is missing most – CHEESE!
Now I am a great believer that when you are meal planning you start off from where you are – you know what your family likes to eat and so you start there with tweaks to cut your spending or make it more healthy.  Diving into a whole new way of eating without your family's agreement just leads to huffiness at the table and outright rebellion in the kitchen.
But my friend has no choice – mega shift in eating style and pronto.  So I have been experimenting with different ways of making some cheesy sauces for her so that she can indulge in her favourite dishes of cauliflower cheese, cheesy chips and pasta dishes.
Turns out – not only that you can …  make a really good tasting cheesy sauce without butter, milk, flour and cheese but that it is so good that you can literally eat it from the spoon.
I have one very happy pal I can tell you – going home with a batch of this today.
So begging your indulgence – if you don't mind over the  next wee while I will focus on new recipes that help her out – but I figure that we can all use a few more healthy recipes in our repertoire? … even if they do sound a little strange to begin with.
No Cheese Cheez Sauce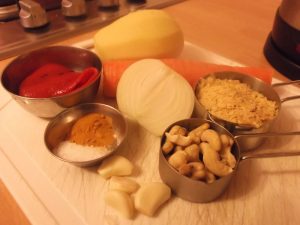 1 medium potato
1 medium carrot
3 fat cloves of garlic
Half a medium onion
2 tbsps cashew nuts (makes a kind of milk)
1 tsp salt
0.5 tsp tumeric
0.5 tsp smoked paprika
quarter cup of nutritional yeast
200ml water
Half a roasted red pepper (mine is from a jar)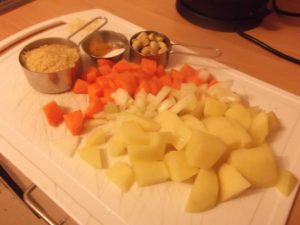 Chop all the veggies – just roughly will do. Place all the ingredients except the roasted red pepper into  pan. Then either simmer in a covered pot until they are all VERY tender and falling apart or toss them in your pressure cooker and cook at pressure for five minutes.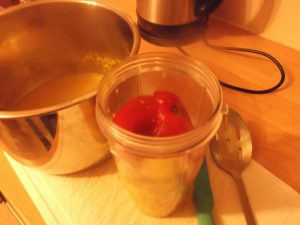 When cooked very soft transfer all the vegetables  into a blender – don't forget your roasted red pepper. Blitz until very smooth with just enough of the cooking liquor to make a dropping consistency sauce.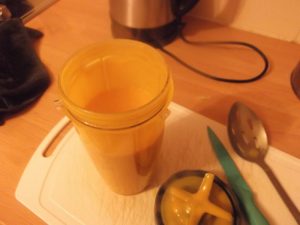 TADA .. a smooth, glossy orangy sauce that pours just like a regular bechemel based one would. It is slightly salty and a little tart .. definitely savoury and very moreish.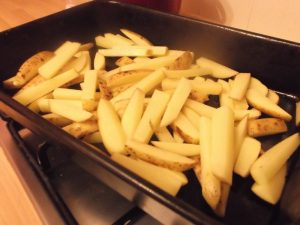 So … potatoes are her comfort so we decided on cauliflower cheez and chips for dinner.  A few scrubbed potatoes chopped up and roasted in a hot oven without any oil.
One head of cauliflower into the steamer for ten minutes and …… VOILA!!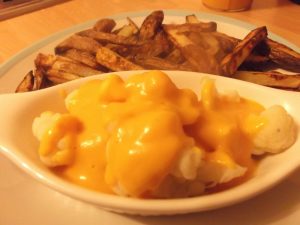 Cauliflower Cheez and Chips …… and it was seriously scrummy.  Not a pick was left and the kids even had some of the chips dipped in the cheez sauce to taste.
Even better – a very full tummy and no spike in her blood sugar.
Cheez tastic!!!