Vegetable Biryani is one of our storecupboard staples here at Chez MFin3.  I can always rustle up a pot of something spicy and ricey with what is lurking around in the bottom of the fridge or freezer.  Its all in the spices – even the plainest of ingredients are jazzed up with a sprinkling of Indian Spices from my spice collection.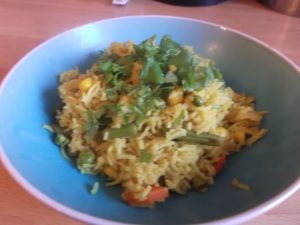 Its a favourite dish on a busy Monday night – when I am looking to get dinner on the table with a minimum of fuss and maximum of taste. It also helps us stick to our "Meatless Monday" habit .. although the doing without meat thing becomes easier the more expensive it all becomes.
If I can throw something into the Thermal Cooking Bag its a double bonus .. and if the leftovers can be packed up for Tuesdays packed lunch then it is ticking all of my boxes.
I have even converted Geetha (her of the "Curry in A Hurry" fame) into cooking her weekday biryani like this.  A quick simmer then into the bag means that there is no chance of rice sticking to the bottom of the pot and burning. When you are away from the stove it's amazing how many evening chores can be accomplished in those precious few minutes ….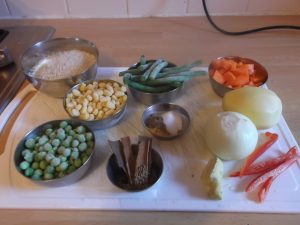 INGREDIENTS
2 cups basmati rice
4 cups chopped vegetables ( I have used a fresh carrot and then some frozen ones for speed)
1 medium potato – peeled and cut into small dice
1 medium onion – thinly sliced
0.5 tsp tumeric
0.5 tsp garam masala
0.5 tsp cumin seeds
1″ fresh ginger
3 garlic cloves
3″ cinnamon stick
3 cloves
3 cracked cardamon pods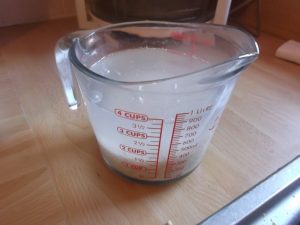 Now you could very finely chop the garlic and ginger .. or grate them together using a mouli.  I blitzed both up in a little water to create a smooth paste instead.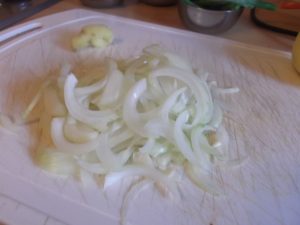 Very finely slice the onions and separate all the slices into little half moons – this will help them cook quicker.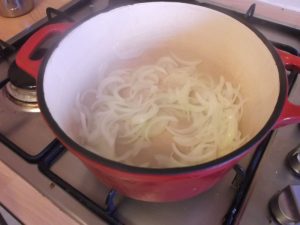 Either fry till tender in a little oil .. or cook down in a splash of water until they wilt and the raw taste is gone.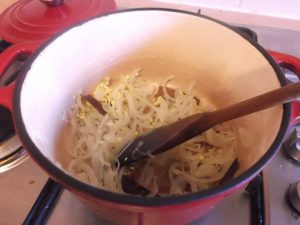 Add the garlic/ginger paste and the rest of the spices – cook out for a minute or two until they all become fragrant.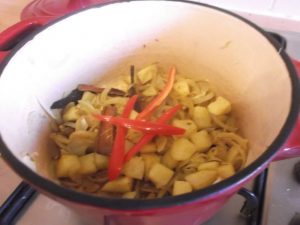 Don't forget the hot chilli.  I slice mine into strips long-wise so that the little red head can avoid the hot bits in his portion and the big ones in the family can enjoy the heat.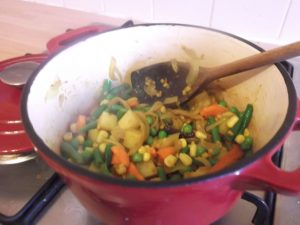 In with the rest of the veggies – straight from frozen is fine.  Add a splash or two of water to create enough steam to defrost them all and begin to soften the chopped carrot and potato.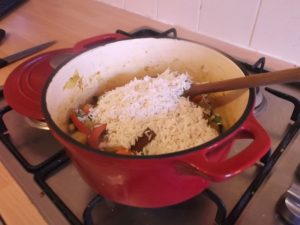 Tip two cups of basmati rice over the veggies ……….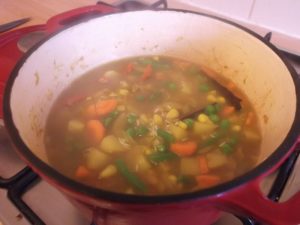 And then cover with three cups of boiling water …..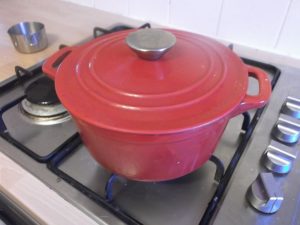 ….. bring everything up to a brisk boil for 5 minutes and then either turn you heat down to the very lowest you can get and cook until the rice has absorbed all the water  OR …….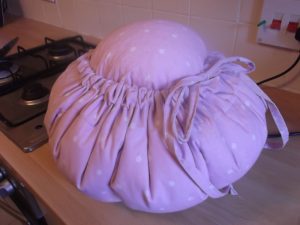 Pop it into the Thermal Cooking Bag …….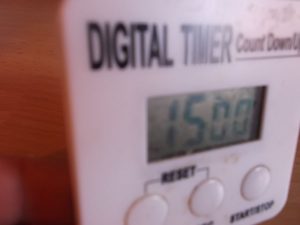 …for about 15 minutes .. although it will sit quite happily for up to an hour if it takes you that long to wrangle the kids to the table.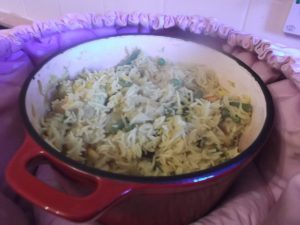 Open up the lid .. fluff with a fork and enjoy the wonderful waft of cardamon and cinnamon steam that escapes.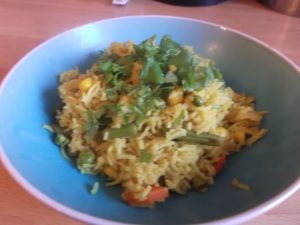 Sprinkle with fresh coriander (or finely shredded spring onions or a little green top of the leeks depending on what point of the week you are at)
My version is fat-free and very filling .. and  it can be popped hot into a food flask or cold into a lunchbox for "planned leftovers for lunch" the next day too.