A Monday night stew is one of the worlds greatest pleasure.  Its one of those things I think about with great nostalgia … dreaming of tender chunks of lean beef simmered long and slow on some mythical Aga. Well I live one floor up = an Aga would end up through the floor in my house wouldn't it?
Lashings of tasty gravy … which after all is the whole point of a stew isn't it .. regardless of what its made of it has to be coated in a thick, yummy, unctuous gravy.
But this month the money is not going to stretch to decent beef …. and the cheaper options were looking less than appetising.  So instead I am falling back on an old student favourite "Beefless Stew"
Mushrooms were on offer this weekend so rather than spend pounds on beef — I spend pence on mushrooms instead.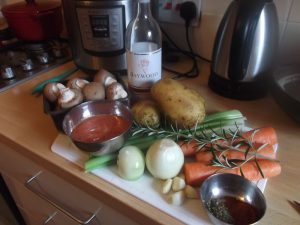 Beefless Stew
One and half large onions
3 celery sticks
3 big carrots
3 medium potaoes
450g mushrooms
6 cloves of garlic
Half a tin of tomatoes – blitzed smooth
1 tsp Italian Herbs
1 tsp smoked paprika
2 sprigs of rosemary
2 handfuls of frozen peas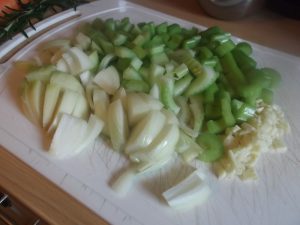 Chop into chunks the onion and celery – you know, stew  sized chunks not weeny little pieces.  Chop the garlic – yes you need lots … remember that lovely gravy we talked about??
Start everything off in the base of a heavy pot or the bottom of your pressure cooker … yup! I am ditching the slowcook,Aga in the corner, Kath Kidson apron on and going for do it fast instead. You could use a little oil – but to be honest a splash or two of water does the job just as well – you just need to cook off the onion till it begins to soften.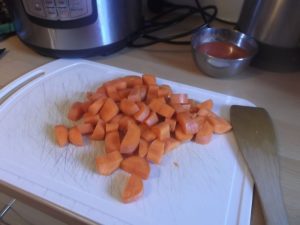 Chop, chop, chop the carrots …….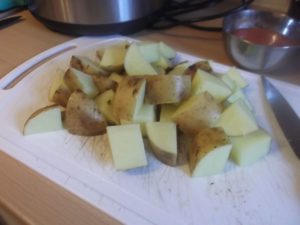 …….. the potatoes … yes this is a whole meal in a bow kind of stew.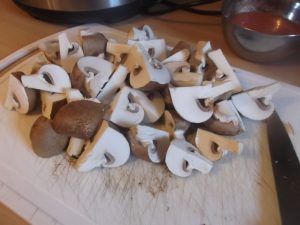 And chop your mushrooms into either halves or quarters depending on how big they are.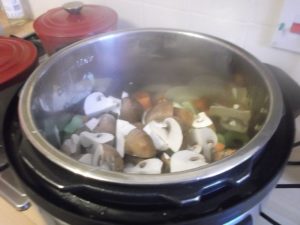 Throw it all in – this is NOT fancy cooking …..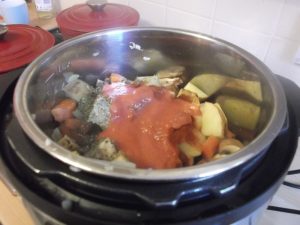 Pour over the blitzed up tomatoes and the herbs …..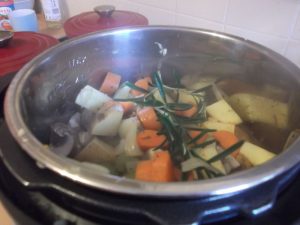 … don't forget the rosemary ……. pour over enough boiling water so that it comes halfway up the veggies and pop on the lid  of your pressure cooker. If you are feeling flush – or you have some leftover a decent glug of wine or beer makes a lovely addition to your gravy at this point.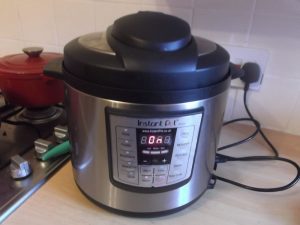 Up to pressure and cook for just six minutes before letting the pressure decrease naturally.
Of course – you could do this in your slow cooker or even on the hob … you just need to cook until the potatoes are very tender.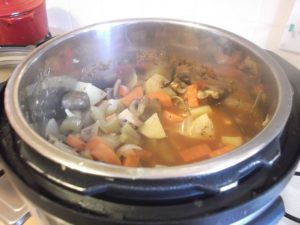 Oops – a bit over the top on the gravy in there LOL.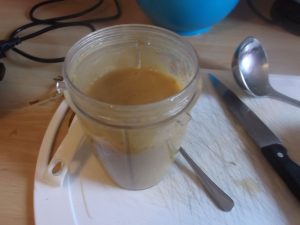 Scoop out a couple of decent ladles of the stew into a blender and blend until smooth – stir back into the stew and as if by magic .. thickened gravy with out any flour or thickeners.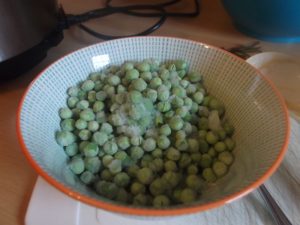 Throw in a couple of handfuls of frozen peas .. firstly cos the bright green makes the stew look lovely and secondly it never hurts getting another veggie into your kids does it?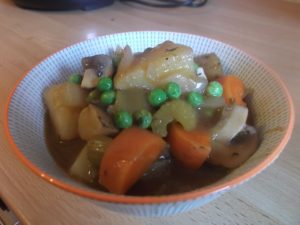 TADA!!!!  It even looks like a stew should – brown fragrant gravy coating lovely chunks of food.  So I had a bowl for lunch yesterday ….. leaving a box in the fridge overnight.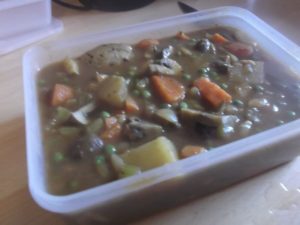 After all – even a veggie stew improves when it has had time to slowly meld its flavours together.
Tonight we had stew and granary bread to mop up the juices .. but had we been hungrier I would have gone all out and made plate sized yorkshire puddings to pour the stew over.
Classic comfort food – but without the extra cost of springing for meat mid week.
What favourite family meals have you guys managed to "Frugalise" ????